Members of Congress are not pleased with how the US military handled a recent Chinese incursion into North American airspace, and they are letting defence officials know it.
At a 9 February hearing of the Senate Appropriations subcommittee on defence matters, senators grilled senior Pentagon officials over why a Chinese airship was allowed to overfly Alaska, western Canada and the entire continental USA for several days in February.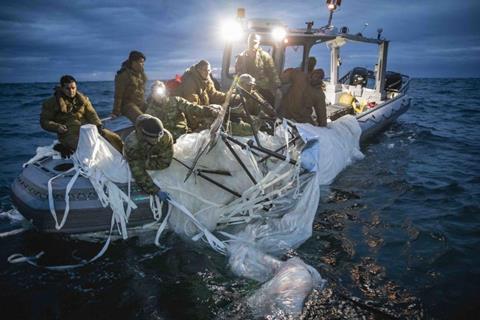 "This administration owes Americans answers not only on what happened this past week, but what steps are going to take to ensure that this never happens again," says subcommittee chair Jon Tester, a Democrat from Montana.
The subcommittee's ranking Republican, Susan Collins of Maine, was even more blunt on the matter.
"It defies belief that there was not a single opportunity to safely shoot down the spy balloon prior to the coast of South Carolina," Collins says.
US Northern Command (NORTHCOM) oversaw a mission to shoot down the balloon on 4 February, roughly 9.5km (6mi) off the coast of Myrtle Beach, South Carolina. China maintains the airship was a civilian weather platform gone astray.
A Lockheed Martin F-22 fighter from NORTHCOM downed the balloon with a single air-to-air missile at an altitude of between 60,000ft and 65,000ft.
In response to the congressional criticism, the Department of Defense (DoD) says concern over airborne debris drove the decision not to shoot down the craft earlier.
The US military seeks a "near zero probability of collateral damage" in any combat situation, including the balloon response, according to US Army Lieutenant General Douglas Sims, operations director for the Pentagon's joint staff.
With a surveillance payload the size of an Embraer ERJ regional jet, according to NORTHCOM, and the balloon itself being 60m (200ft) tall, Sims says the DoD could not sufficiently guarantee the safety of people and communities on the ground during an overland shoot down of the balloon, even in a sparsely populated region like Alaska.
"We wouldn't do that in combat", he notes. "We certainly didn't want to take that chance with Alaska or any other Americans throughout the flight path."
In response, some senators question why the balloon was not destroyed off the coast of Alaska, where it first entered US airspace. Defence officials say a key aspect of their decision to wait was the potential of capturing the onboard surveillance equipment for study.
"It would have been a very different recovery operation", says assistant secretary of defense Melissa Dalton, in describing the prospect of salvaging the balloon's remnants in Alaska's waters.
The Bering Sea, she notes, quickly drops to depths greater than 4,000m off the coast of the Aleutian Islands, where the balloon transited. Winter ocean temperatures hover around freezing, "which would make recovery and salvage operations very dangerous", Dalton notes.
By contrast, the waters off the coast of South Carolina where the airship ultimately landed are only around 15m deep – allowing US Navy divers to recover portions of the wreckage by 7 February.
Sims says the military believes it will complete the salvage operation within two weeks.
Despite the practical justifications, and DoD assurances that sensitive sites in the balloon's path were protected from observation, senators still expressed outrage over the Pentagon allowing a foreign adversary to violate sovereign US airspace for several days.
Representatives from non-contiguous territories, including Alaska and Hawaii, expressed particular concern that the airspace of their states was a lesser priority for national defence.
"At what point, at what point do we say a surveillance below and a spy balloon coming from China is a threat to our sovereignty?" asks Alaska Republican Lisa Murkowski, whose state is home to numerous military bases housing fifth-generation fighter squadrons and missile defence stations.
"It should be the minute it crosses that line, and that line is Alaska," she adds.
Defence officials dodged many lawmaker questions about the merits and intent of China's balloon programme, which the DoD alleges is nefarious and global in nature. The DoD has been particularly vague about the details surrounding four previous balloon transits of US airspace it says occurred since 2017.
The military failed to identify those incursions at the time, according to NORTHCOM commander USAF General Glen VanHerck.
"I will tell you that we did not detect those threats," VanHerck says on 6 February. "That's a domain awareness gap that we have to figure out."
He adds the USA's intelligence agencies helped the Pentagon identify those incidents retroactively.
DoD officials justify evasiveness regarding what they know of the balloons and how they know it by saying the answers touch upon sensitive information they could only provide in a classified setting.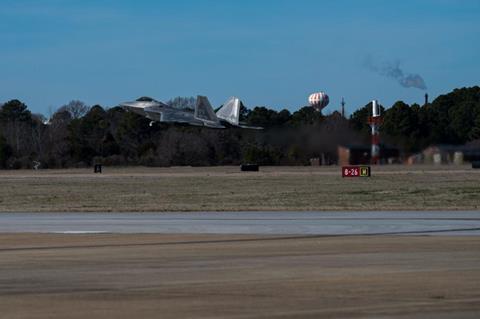 However, Hawaii Democrat Brian Schatz questions whether the desire to cover up military and intelligence shortcomings is also a factor.
"I respect the need to keep some of this classified, but we all understand that some of the desire to keep things classified has to do with not wanting to disclose to the public things that might be inconvenient politically for the department," Schatz says.
The Hawaii senator speculates the real reason for the proliferation of Beijing's balloon fleet is they represent a cheaper alternative to satellites for overhead reconnaissance. When asked if the airships posse any advantages over platforms in low Earth orbit, Dalton declined to answer Schatz in open session, citing classified information.
While Dalton says the 4 February downing of China's balloon established a "deterrent line", both Schatz and Murkowski seem to argue the episode in fact represents a failure by the Pentagon to establish a clear standard for what actions will provoke a "kinetic" response by the USA.
Tester, whose subcommittee plays a crucial role in funding the USA's sprawling defence apparatus, also questions whether the DoD has established a "consistent plan" for dealing with balloon incursions, which he predicts will happen again.
"I don't remember hearing about anything that dealt with balloons in the budget", he says of the $858 billion defence spending plan passed in December. "I don't want a damn balloon going over the United States."
Dalton says the downing of the balloon firmly establishes Washington's policy on the matter.
"We sent a very clear message to [China] when we shot it down in our sovereign airspace, in our sovereign waters," she argues.
Lawmakers also question whether the ability to recover the balloon was worth the risk of allowing it to overfly sensitive American military facilities. While military officials have repeatedly assured members of congress, and the public, there was no physical or intelligence threat from the recent balloon event, Tester remains unconvinced.
"The truth is we think we know what they were going to collect", he says. "[But] we don't know. That scares the hell out of me."
Tester adds his body is committed providing the DoD the budget it needs "to stop any future provocations from China or any other foreign adversary".