Leonardo has disclosed a series of updates to its 200kg (440lb)-class AWHero rotary-wing unmanned air system (RUAS), including a new powertrain and changes to the airframe to boost payload capacity.
Unveiled at the SeaFuture exhibition in La Spezia, Italy, the enhancements mark the system's move from an initial design to a more operationally focussed configuration, the company says.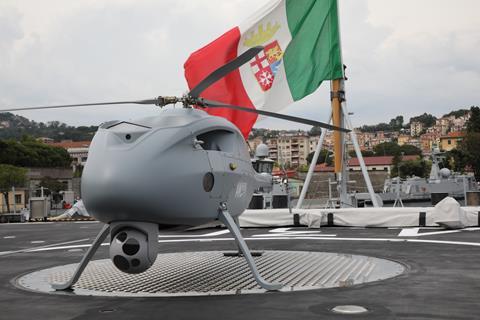 Changes embodied on the latest iteration include a new heavy-fuel powertrain comprising a "twin-engined solution". Leonardo does not disclose the propulsion supplier, but says the system is "unique in this weight class".
The updated powertrain increase "safety, efficiency and time between overhauls", Leonardo says.
In its original SD-150 Hero guise, the RUAS was powered by a single two-stroke, two-cylinder engine.
Other improvements to the platform include airframe modifications which deliver "significant operational and support advantages" such as powertrain integration, payload bay capacity, system/sensor integration and field of view, maintainability, and on-deck stability.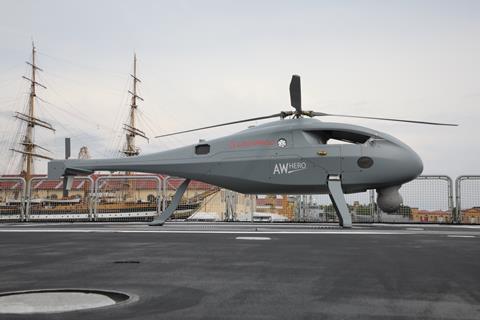 The AWHero's airframe is now visibly more streamlined than previously and lacks the vertical tail of earlier versions, In addition, the landing gear is now in a tripod configuration rather the previous skid-gear layout.
A Leonardo Gabbiano TS Ultralight maritime radar is also now incorporated in the design.
Gian Piero Cutillo, managing director of Leonardo Helicopters, says: "The system enhancements unveiled today reflect the incremental yet firm move from basic design to a Concept of Operations-focused configuration."
To date, Leonardo has yet to attract a customer for the AWHero, but says it is seeing "a lot of interest across geographies" with sales discussions ongoing.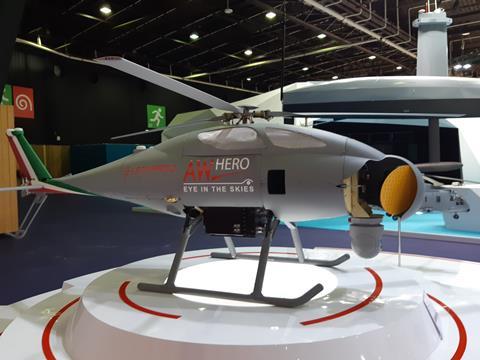 Dominic Perry is deputy editor of Flight International but also contributes extensively to flightglobal.com. Although specialising in the coverage of the helicopter industry, he has written on most topics in aerospace – be they commercial, defence or business aviation. In addition, there has been an increasing focus on the decarbonisation of the industry and zero-emission flight initiatives.
View full Profile