Malaysia aims to acquire a medium-altitude, long-endurance (MALE) unmanned air vehicle (UAV) capability in 2025.
The UAV will serve with the Royal Malaysian Air Force (RMAF) and become operational in 2026, according to a report by state news agency Bernama, quoting deputy defence minister Abdul Aziz.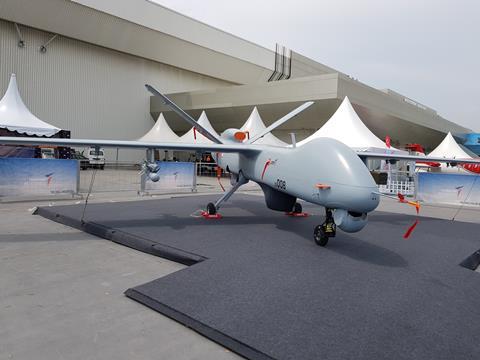 Aziz made the remarks to Malaysia's parliament. He adds that the defence ministry has evaluated tenders, and submitted them to the country's Ministry of Finance.
The UAV is envisaged as serving the intelligence, surveillance and reconnaissance (ISR) mission, with an electronic warfare capability to come later.
When acquired, the UAVs will be based on the island of Labuan to carry our surveillance over the South China Sea.
Aziz did not state the number of systems to be acquired, or the amount budgeted for the capability.
Kuala Lumpur has had a long-running MALE UAV requirement, which was a focus of the Langkawi International Maritime and Aerospace Exhibition in March 2019.
General Atomics Aeronautical Systems promoted the MQ-9B at the event, while Turkish Aerospace (TAI) promoted the Anka. Chinese state arms exporter CATIC was also at the show, with a model of the AVIC Wing Loong II.
Beijing's ever-growing aggressiveness in the South China Sea – which it claims in its entirety – has put Southeast Asian countries on edge, and placed a premium on ISR. On 31 May 2021, RMAF fighters based at Labuan intercepted 16 Chinese strategic transports conducting a long-range sortie to within 60nm (111km) of East Malaysia on the Island of Borneo.
TAI has worked to build a presence in Malaysia, with the November 2021 establishment of an engineering and design office in the country – its first such office in Southeast Asia.
In July, TAI chief executive Temel Kotil told Malaysian media that his company is keen on production work in Malaysia related to fixed-wing assets, helicopters and UAVs. He added, however, that for the company to entertain production in Malaysia, it first required some sales in the country.