A General Atomics Aeronautical Systems (GA-ASI) MQ-1C Gray Eagle Extended Range (GE-ER) has used two sensors to identify and localise emitters on the ground to produce targeting data.
The work took place at Yuma Proving Ground, Arizona on 30 January, and was part of a series of internally funded demonstration flights.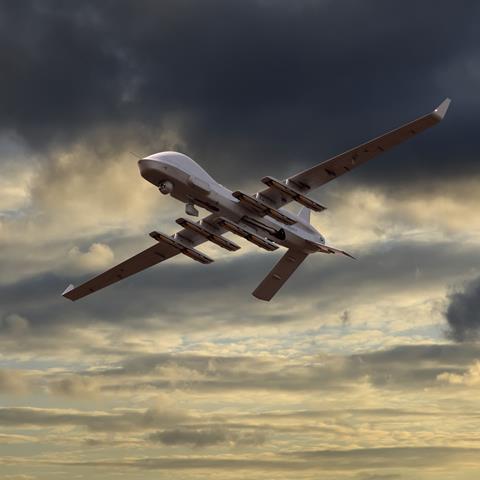 "During the flight, the GE-ER identified emitters with Communications Intelligence (COMINT) payload while operating at 25,000 feet, cross-cueing the on-board Synthetic Aperture Radar (SAR) to produce precision coordinates sufficient for targeting within minutes," says the company.
The COMINT payload was the L3Harris Nino COMINT system, while the SAR used was GA-ASI's Lynx system.
The aircraft was controlled by GA-ASI's laptop-based command and control system.
During the demonstration the aircraft also carried a pair of Area-I Altius-600 Air Launched Effects (ALEs). A subsequent test this summer will see the ALEs launched and controlled by the GE-ER.
"We are excited to team with industry partners to demonstrate these capabilities on the Gray Eagle ER," says David Alexander, president, GA-ASI.
"The long-range radar, COMINT and ELINT packages, as well as launch and control of ALEs and the GBU-69B Small Glide Munition are all capabilities that are available today on the Gray Eagle ER."
In January, the company said it had started demonstration flights for the GE-ER as a tactical ballistic missile spotter for the US Army's future Long Range Precision Fires system.
General Atomics is pitching the radar-equipped MQ-1C as useful for operations over land or sea in the Pacific Ocean and European theatres. The Pentagon is concerned about new longer-range missile and artillery developed by China and Russia.
The GE-ER is an extended range version of the MQ-1C in service with the US Army. General Atomics pegs its endurance as "up to 40 hours."