The US Naval Air Systems Command (NAVAIR) has conducted a lab integration event to explore the deck handling of the developmental Boeing MQ-25 Stingray unmanned refuelling aircraft.
The work was conducted from 28-30 June at the MQ-25's System Test and Integration lab, with Lockheed Martin's ground control station (GCS) controlling Boeing's Hardware-in-the-Loop (HITL) air vehicle, which uses both aircraft and software to create a "realistic surrogate" for the MQ-25, says NAVAIR.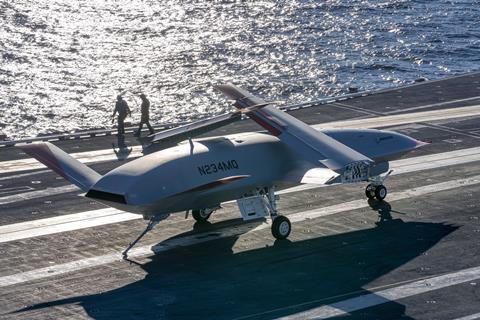 "This achievement is the result of weeks of preparation and dedication by highly skilled teams," says TJ Maday, MQ-25 labs and integration manager.
"Bringing multiple systems together is never easy, but the joint government/industry team, coming together, understanding problems and finding solutions made this event successful. We learned how the system works as a whole and that early learning and discovery is key to keep the programme moving forward."
The project called for Boeing and Lockheed to provide software to allow connectivity between the GCS and HITL.
This fall, NAVAIR will conduct a complete flight using the HITL aircraft, which will also demonstrate switching connections to the aircraft, and "adding other aircraft hardware and software into the mix".
When in operation, an aircraft carrier flight deck represents a complex and dynamic work area. Precise, co-ordinated aircraft movements are essential for both safety and smooth operations. The unmanned MQ-25 will need to be fully integrated into this challenging environment.
In late 2021, Boeing's MQ-25 T1 demonstrator completed a series aboard USS George HW Bush to assess its deck handling characteristics.
During the project, USN flight deck directors – known as 'yellow shirts' – used standard hand signals to direct the MQ-25, which was controlled by a deck handling officer using a remote control system.
The MQ-25 taxied, connected to catapults, cleared the landing area, and practised parking.