A Northrop Grumman MQ-4C Triton unmanned air vehicle (UAV) has operated its first sortie in a new Multi-Intelligence (Multi-INT) configuration.
The UAV operated the sortie from NAS Patuxent River in Maryland, says Northrop.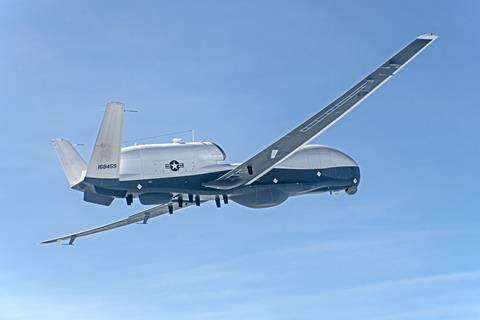 "The multi-intelligence configuration of Triton will completely revolutionise how the US Navy and Royal Australian Air Force conduct maritime patrol and reconnaissance missions," says Doug Shaffer, Northrop's vice-president and programme manager, Triton programmes.
"Multi-intelligence capabilities, coupled with Triton's long-range sensors and 24-hour endurance, will enable an unprecedented amount of maritime situational awareness to inform real-time decision making at tactical to strategic levels."
Northrop adds that it is working with the US Navy (USN) towards achieving initial operating capability in 2023, and that the Triton will eventually replace the Lockheed Martin EP-3E Aries, as it will be able to assume the four-engined type's intelligence-collection duties.
The USN has two Tritons serving the Asia-Pacific region, but in a baseline configuration. Eventually, the navy hopes to operate 68 Tritons, allowing it to maintain "five 24/7 operational orbits".
Canberra plans to obtain six, or possibly seven, MQ-4Cs in the Multi-INT configuration.
"This hugely important milestone for our Triton Multi-INT programme is the culmination of over five years of intense engineering, integration and test, and represents the efforts of the hundreds of team members who have worked so tirelessly to achieve this Herculean task," says USN Captain Dan Mackin, Persistent Maritime Unmanned Aircraft Systems programme manager.
He says that the system offers 360° coverage with its active electronically scanned array radar, full-motion electro-optical/infrared streaming, signals intelligence, and the bandwith to transmit data to other assets and ground stations.