The US Navy's latest autonomous helicopter system is making its operational debut in the Indo-Pacific region.
The Northrop Grumman MQ-8C Fire Scout is deploying to the region aboard the USS Jackson littoral combat ship, Northrop said on 23 May.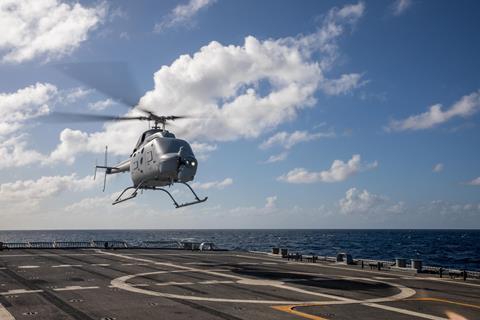 "The MQ-8C Fire Scout is an extremely flexible unmanned aerial system and a pillar in the Navy and Marine Corps unmanned campaign plan," says Captain Dennis Monagle, US Navy programme manager for multi-mission tactical unmanned aerial systems (UAS).
The Fire Scout is described by its manufacturer as a "runway-independent helicopter" capable of autonomous flight in performance of intelligence, surveillance, reconnaissance and targeting missions in a maritime environment.
It is built on a Bell 407 commercial airframe, modified with specialised flight controls, sensors and electromagnetic shielding that allow for fully autonomous flight, including take-off and landing aboard a vessel underway.
Monagle notes the Fire Scout will ultimately be integrated into the Constellation-class of frigates currently being built. The USS Constellation, the first of ten such vessels, is expected to begin operating in 2026.
The MQ-8C Fire Scout's initial deployment was to the Caribbean Sea aboard the USS Milwaukee in December 2021, according to Lance Eischeid, director of Fire Scout programme at Northrop Grumman. He says the unmanned helicopter was used to support the Navy's counter narcotic efforts in the region.
The latest version of the Fire Scout features significant advancements over the earlier MQ-8B, according to the Navy.
"The transition from the MQ-8B to the MQ-8C Fire Scout has brought improved sensors and more than doubles the on-station endurance," says US Navy Captain Eric Soderburg in a January 2022 statement marking the system's first operational deployment.
The MQ-8C boasts up to 12h of continuous flight time and a maximum speed of 135kt (250km/h), according to Naval Air Systems Command.
Soderburg adds that advances in Fire Scout's capabilities "further our successful integration of unmanned platforms at sea and the Navy and Marine Corps unmanned campaign plan".
That plan includes so-called "manned-unmanned teaming" (MUM-T) – a concept involving pairing conventional manned platforms like jets and helicopters with unmanned systems like the Fire Scout.
Earlier generations of UAS replaced manned systems with so-called remotely piloted aircraft, which are still flown by human pilots in removed locations. The ultimate goal for MUM-T is to develop fully-autonomous systems, like the Fire Scout, that do not require remote pilots.
The MQ-8C was designed by a joint Northrop Grumman/Bell team and is assembled in Alabama and Mississippi.