Nine aerospace manufacturers will each design an autonomous ship-based reconnaissance aircraft capable of vertical take-off and landing (VTOL) for the Pentagon's secretive technology incubator, the Defense Advanced Research Projects Agency (DARPA).
The agency, which is involved in several aircraft development initiatives, launched the X-plane project in 2022. Known as the Advanced Aircraft Infrastructure-Less Launch and Recovery – or ANCILLARY – programme, the effort aims to radically improve the range, payload, endurance and weight of VTOL aircraft.
AeroVironment, AVX Aircraft, Griffon Aerospace, Karem Aircraft, Leidos, Method Aeronautics, Northrop Grumman, Piasecki Aircraft and Lockheed Martin subsidiary Sikorsky will develop ANCILLARY designs, according to DARPA, "with navy and marine corps missions in mind."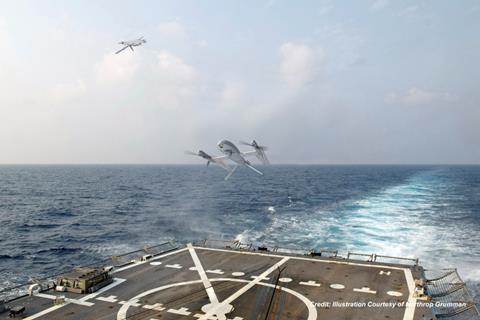 "The objectives of the program are to develop a small [unmanned aerial system] that takes off and lands vertically, like a helicopter, and flies its mission like very efficient winged aircraft, while carrying a significant amount of payload for a variety of missions," says Steve Komadina, the DARPA program manager for ANCILLARY.
"We are looking for a VTOL UAS that can operate from ship flight decks and small out-of-the-way land locations in most weather conditions without using typical launch and recovery equipment that is needed for current long endurance, high payload weight aircraft," he adds.
Northrop Grumman on 13 July revealed that it was selected for the programme. The company says its demonstrator will be a runway-independent, "cost-efficient" aircraft with multi-mission capabilities, including ability to perform reconnaissance and intelligence collection and to provide ship-to-shore logistics support.
"In collaboration with DARPA, Northrop Grumman will work to significantly enhance how future autonomous vertical lift aircraft will operate at sea and ashore," says the company's vice-president of research and advanced design Tim Frei.
Northrop says its ANCILLARY demonstrator will be capable of carrying a 27kg (60lb) sensor payload, and have endurance of 20h on station and a mission radius range of 100nm (185km). The aircraft will be able to take off and land on a ship deck in adverse weather without infrastructure such as catapults or recovery wires.
DARPA says it is seeking to include "traditional and non-traditional" companies from the defence and aerospace industries in the ANCILLARY project. The nine firms selected will have six months to develop their designs, before submitting a competitive proposal "for more detailed X-plane design work," the agency says.
In addition to ANCILLARY, DARPA is developing a heavy-lift seaplane known as the Liberty Lifter and a next-generation aircraft known as Sprint that seeks to combine the flexibility of a VTOL craft with the high-speed flight of a fixed-wing jet.