Northrop Grumman aims to deliver Australia's first MQ-4C Triton unmanned air vehicle (UAV) in the middle of 2024, as the Royal Australian Air Force (RAAF) reforms its 9 Sqn to operate the long-range maritime patrol asset.
The US company has three Tritons on contract with Australia. The first, rolled out in September 2022, will conduct its maiden sortie and test flights this year, pending delivery to Australia in 2024, says Brad Champion, deputy director of the Triton programme.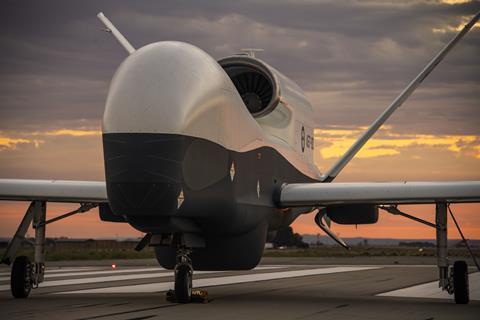 The second Australian aircraft completed its wing-fuselage join in Palmdale, California in January, and the third is at Northrop's Mississippi facility, pending shipment to Palmdale. Both the second and third examples should be delivered in 2024 as well.
All three are in the new Multi-Int configuration, identical to that of US Navy (USN) Tritons. The configuration adds a major signals intelligence (SIGINTcapability in addition to the Triton's other sensors.
Champion adds that in the USN, Triton's Multi-Int configuration is likely to achieve initial operating capability (IOC) in the third quarter of 2023.
"We're primarily focused on our IOC for Multi-Int configuration," says Champion. "The Multi-Int configuration…brings in the sophisticated SIGINT sensor capability, which is really a step function to the capability that this platform provides."
Champion and colleagues from Northrop discussed Australia's Triton programme with FlightGlobal at the recent Avalon Airshow.
Australia has yet to commit to additional Tritons, but Canberra is part of the USN's programme for the type. Previous assessments and Australia's 2016 defence white paper have indicated that it is likely to obtain a total of six or seven Tritons.
Canberra clearly sees benefits to the programme. Champion notes that in the USA's 2021 fiscal year, Australia brought forward some of its Triton buys, which partially helped avert a production freeze. The US Congress also helped by approving three additional aircraft during that period.
"Australia really helped the produciton line, the congressional aircraft helped, and we're out of that pause period now and continuing with production," says Champion.
Jake Campbell, Northrop's Triton programme director in Australia, says that the RAAF will need at least six or seven Tritons if it wants to conduct persistent operations in two separate areas.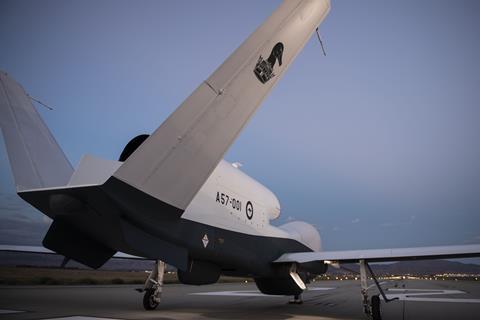 To maintain persistent surveillance, the Triton concept of operations calls for one aircraft in the area of responsibility (AOR), one aircraft flying to the AOR, and one returning from the AOR. A fourth aircraft would be in maintenance.
In anticipation of the Triton capability, the RAAF is reforming the historic 9 Sqn, which was active during the Second World War and from 1962-1989. In the 1940s it served in the reconnaissance role flying Supermarine Seagulls and Walruses, and in its later incarnation operated the Bell UH-1 and Sikorsky S-70A.
In addition to supporting Camberra's Triton acquisition, Northrop is also eyeing future blocks of Australia's Sea 129 Phase 5 requirement, which calls for UAVs that can operate from warships. Northrop feels its MQ-8C Fire Scout unmanned helicopter is a good potential fit.
James Polzin, Northrop's capture lead for Fire Scout in the Indo-Pacific, notes that the smaller MQ-8B has been phased out by the USN to make way for the more capable MQ-8C. He says work is underway with MQ-8C in the key area of manned-unmanned teaming.