Northrop Grumman has reiterated its call for Canberra to move its acquisition of the MQ-4C Triton unmanned air vehicle (UAV) forward to help fill a potential two-year production gap.
The company notes that the platform has proven effective since the US Navy (USN) deployed a pair of the high-altitude, long-endurance intelligence, surveillance and reconnaissance (ISR) assets to Guam in January.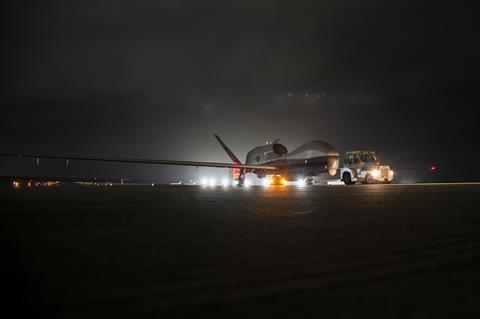 Since deploying, it says the two aircraft have flown over 765h with Unmanned Patrol Sqn 19.
"Triton is quickly providing vital information to operational users," says Doug Shaffer, vice-president, Triton programmes at Northrop.
"This game-changing, persistent system is going to revolutionise the navy's maritime ISR capabilities by providing an unprecedented amount of data to inform critical decision making."
It goes on to note, however, that there is still the possibility of a production gap, given that the US Department of Defense's budget request for the 2021 fiscal year calls for a two-year production pause for the Triton in 2021 and 2022 – FY2021 runs from 1 October 2020 to 30 September 2021.
Shaffer says a two-year production pause would be highly detrimental to the production line and hurt efficiencies, as well as drive up both risks and costs.
"We estimate that stopping and restarting the line alone will cost roughly $150 million and then each aircraft likely costs about $20 million more. Consequently, we are talking to Congress and our navy customer about opportunities to sustain the production line, protect our suppliers and support the programme long-term."
The company adds that the Royal Australian Air Force plans to obtain six, and possibly seven, MQ-4Cs in the same configuration as the USN. Canberra has formerly ordered three aircraft. Northrop has been party to "multiple discussion" between the USN and Australia about options to fill the FY2021 and FY2022 production slots.
"While any decision to accelerate the Australian programme is between the US Navy and Australia, we are prepared to provide the necessary support to an accelerated Australian programme," says Northrop.
It first made the call for an accelerated Australian acquisition in March, following the DoD's budget request.
Under current plans, Australia is scheduled to receive its first Triton in late 2023. Should it approve all six aircraft by the end of 2020, it can have all six MQ-4Cs by 2025.