Czech aerospace company PBS has signed a memorandum of understanding (MoU) with Ukraine's Ivchenko-Progress to develop a new engine for unmanned vehicle applications.
The AI-PBS-350 engine is designed for use in cruise missiles, anti-ship missiles, and other unmanned systems. It produces 764lb (3.4kN) of thrust and weighs just 51kg (112lb).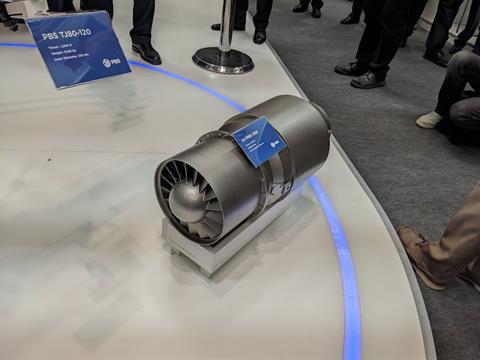 A company brochure says it is optimised for "single-mission" UAV systems.
PBS says the AI-PBS-350 will be the most advanced engine of its kind, and that the company is now sharing technical details with potential customers.
The MoU was signed by PBS chief executive Milan Macholan and his Ivchenko-Progress counterpart Igor Kravchenko.
"The agreement aims to establish a framework for commercial development, and production co-operation on the new AI-PBS-350 turbojet, which will be a joint product of PBS and Ivchenko Progress and will be available to customers from mid-2023," says the Czech firm.
"The agreement also includes an extended co-operation agreement to identify new joint commercial and development projects in the aerospace, defence, and energy industries."
Kravchenko says that Russia's invasion of Ukraine had a major impact on all Ukrainian companies, but that Ivchenko-Progress has been able to continue its work with the strong backing of the government in Kyiv.
Updated with correct name of the head of Ivchenko-Progress.