The US Department of Defense (DoD) intends to sell four General Atomics Aeronautical Systems MQ-1C Gray Eagle remotely piloted aircraft (RPA) to Ukraine, as that country's war against invading Russian forces enters its fourth month.
Reuters reports that the MQ-1C sale is in the final stages of approval by US officials, after several weeks of review at the Pentagon. Foreign Military Sales (FMS) must be approved by the Department of State and Congress, both of which could block the move.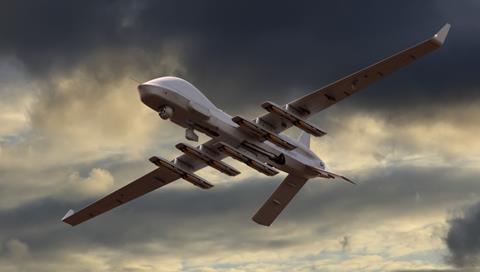 The DoD declines to comment, referring the matter to the Department of State, which says it does not "publicly comment on or confirm proposed defence sales until they have been formally notified to Congress".
The Gray Eagle is a medium-altitude, long-endurance unmanned air vehicle capable of carrying four Lockheed Martin AGM-114 Hellfire air-to-ground missiles. It is essentially an upgraded MQ-1 Predator.
Ukraine has made highly effective use of an equivalent UAV, the TB-2 Bayraktar, produced by Turkish defence manufacturer Baykar. The TB-2 was developed by Turkey, in part, due to export restrictions on armed UAVs by the USA.
"The US starts at 'no' when allies and partners ask for this capability," says Heather Penney, a senior resident fellow at the Mitchell Institute and former US Air Force pilot.
Penney recently authored an analysis of the USA's export policy concerning UAVs for the Mitchell Institute. She argues American regulators of FMS are overly-skittish when it comes to the export of unmanned aircraft, despite regularly approving the sale of manned combat aircraft.
"If the US can safely export advanced technology like [Lockheed[ F-35s, there is no reason it can't export RPA," Penney said in April.
Between December 2020 and April 2022, the USA approved seven sales of fixed-wing combat aircraft, including Boeing F-15s and Lockheed F-16s, according to data from the Defense Security Cooperation Agency.
Three sales of attack helicopters were approved, including Boeing AH-64D Apaches and Bell AH-1Z Vipers. The sale of utility and lift airframes was also approved on several occasions.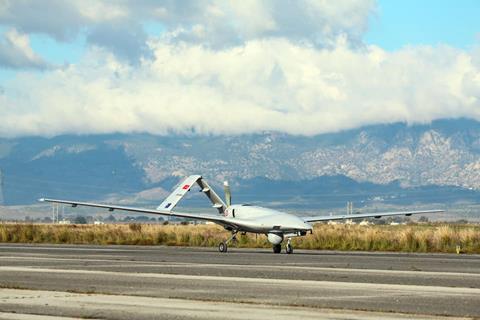 More than 20 sales of offensive and defensive missiles were approved.
By contrast, only one sale of the General Atomics MQ-9B Reaper RPA was approved, although ultimately never executed after Australia cancelled the request. France and Spain were both approved to receive logistical support for MQ-9Bs they previously purchased.
Penney argued in April that the battlefield success of the TB-2 in Ukraine was evidence that the USA needs to adjust its policy on RPA exports.
"The TB-2s have been very effective at enabling the Ukrainians to engage a much larger force," she notes, adding the defenders would have "struggled to complete their kill chains" without the offensive and reconnaissance capabilities provided by the Bayraktar.
Penney argues that an MQ-1C sale to Ukraine would likely only represent an exception to the de facto ban on armed RPA sales, driven by the political and military urgency of the situation in Ukraine, rather than a substantive shift in policy.
"I don't foresee this trading coherence and a path towards a more rational export policy regarding uncrewed aircraft," she says.
If ultimately approved, the sale could provide Ukraine with a powerful new capability to bolster its existing fleet of TB-2s and manned jets.
The Gray Eagle is substantially larger than the Bayraktar, with a wingspan of 18m (56ft), compared to the TB-2's 12m. The MQ-1C also has a higher maximum altitude, faster maximum airspeed and greater total payload capacity.
Although the base model MQ-1C has a similar endurance to the TB-2, General Atomics says the upgraded extended-range variant of the Gray Eagle offers up to 42h of flight time. Baykar lists 27h as the Bayraktar's flight endurance.