The US military is tracking what it describes as a Chinese high-altitude surveillance balloon travelling over the continental USA.
The Pentagon on 2 February said the joint USA-Canada North American Aerospace Defense Command (NORAD) is monitoring the object, which defence officials believe originated in the People's Republic of China (PRC).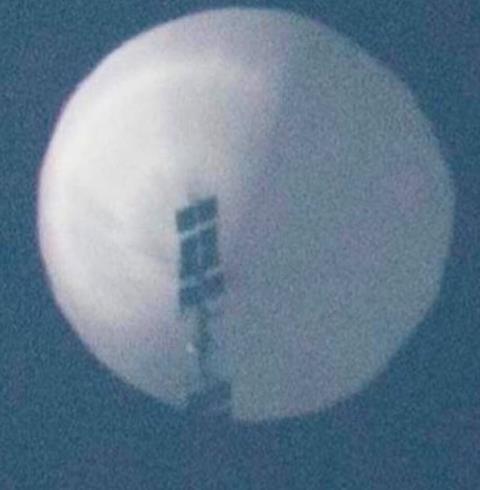 "The balloon is currently travelling at an altitude well above commercial air traffic and does not present a military or physical threat to people on the ground," says Pentagon press secretary Brigadier General Pat Ryder.
American defence officials recommended against taking "kinetic action" against the balloon, for fear the debris could threaten people or infrastructure on the ground.
"Currently, we assess that this balloon has limited additive value from an intelligence collection perspective," says a senior defence official who declines to be identified. "But we are taking steps, nevertheless, to protect against foreign intelligence collection of sensitive information."
The recommendation against shooting down the balloon apparently came from General Mark Milley, chairman of the Joint Chiefs of Staff, and US Air Force (USAF) General Glen VanHerck, commander of NORAD and US Northern Command, the Pentagon says.
However, NORAD reportedly scrambled Lockheed Martin F-22 fighters on 1 February in response to the incursion. The Federal Aviation Administration also issued a ground stop for several hours on 1 February around Billings Logan International airport in Montana, near the balloon.
Flight traffic has since resumed.
The recommendation against a shoot down may partially stem from the size of the object.
"I can't really go into the dimensions", the unnamed official says. "But there have been reports of pilots seeing this thing, even though it's pretty high up in the sky. So… it's sizeable."
The exact altitude of balloon was not disclosed. However, analysis from Reuters claims modern surveillance balloons filled with lighter-than-air helium can reach altitudes between 80,000ft and 120,000ft – above the service ceiling of fighter aircraft.
Modern missile-defence platforms – such as the USA's sea-based Aegis ballistic missile defence system and Ground-based Midcourse Defense system – could potentially engage targets at such heights. The USA has also in the past successfully targeted orbiting satellites with surface- and air-launched missiles – although it committed to ending such tests in 2022.
In 1985, a USAF Boeing F-15A launched a missile from an altitude of 38,100ft and was able to strike a failed US satellite orbiting 555km (345 miles) above Earth.
A senior defence official says US intelligence agencies have "very high confidence" the balloon belongs to the PRC, and that the USA has engaged Chinese counterparts "with urgency, through multiple channels" regarding the presence of the balloon.
The People's Daily, a state-affiliated publication and official newspaper of the Chinese Communist Party, on 3 February acknowledged the balloon does belong to China, but rejected the claim it is of a military or espionage nature.
"A Chinese airship used for meteorological purposes accidentally entered US airspace due to the westerlies and its limited self-steering capability," the People's Daily tweeted on 3 February. "China regrets the unintended entry and will properly handle this unexpected situation caused by force majeure."
The People's Daily attributed the statement to Chinese foreign minister Qin Gang.
US meteorologist Dan Satterfield, who runs a weather blog and works as chief meteorologist at a CBS affiliate in Maryland, claims to have corroborated the balloon's Chinese origins. Using a weather modelling tool from the USA's National Oceanic and Atmospheric Administration (NOAA), Satterfield estimated the object's likely trajectory and point of origin.
"The NOAA Hysplit model shows it was over China 120 hours ago", Satterfield tweeted. "This model goes backward in time using upper-level winds."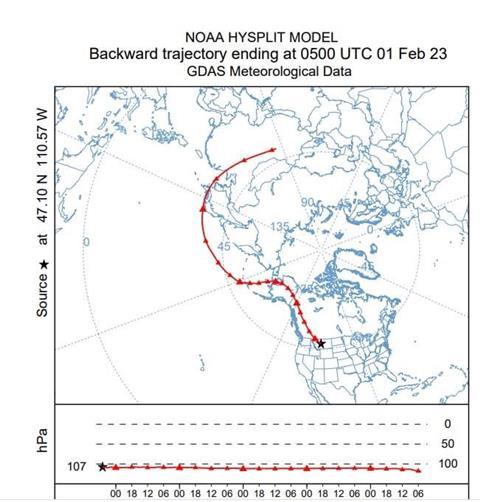 Not all observers in the US government have been sanguine about the balloon's presence, as Montana is home to several USAF nuclear missile silos.
Steve Daines, a Republican US senator from Montana, called out the administration of President Joe Biden, saying it "failed to protect our skies".
In a 2 February letter to defence secretary Lloyd Austin, Daines says he is "alarmed" the balloon was able to infiltrate US airspace during a time of "increased hostility and destabilisation" globally.
"This balloon… creates significant concern that Malmstrom Air Force Base and the [USA's] intercontinental ballistic missile fields are the target of this intelligence gathering mission," Daines says.
Why the Chinese government would deploy a surveillance balloon, when it has a fleet of sophisticated spy satellites in orbit, remains unclear.
One explanation could be old-fashioned geopolitical jockeying ahead of a diplomatic meeting. Secretary of State Antony Blinken, the USA's top diplomat, is scheduled to visit Beijing during the week of 6 February. Unconfirmed media reports on 3 February say Blinken will postpone that trip in response to the balloon incident.
Pentagon officials say this is not the first time they have observed such objects.
"It's happened a handful of other times over the past few years, to include before this administration," a senior defence official says.
The official notes the balloon appears to be loitering over US airspace for longer than in previous incidents. The Pentagon reiterates it does not believe the balloon represents a significant intelligence threat.