Australia's acquisition of the Northrop Grumman MQ-4C Triton unmanned air vehicle (UAV) has advanced with the joining of the first aircraft's fuselage and one-piece wing.
The milestone took place at the company's Palmdale, California factory, with the UAV's fuselage lowered onto the wing, says Northrop.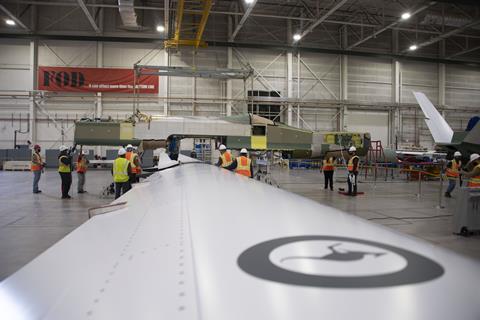 "This production milestone further demonstrates our commitment to both sides of the cooperative programme between the Royal Australian Air Force [RAAF] and the US Navy [USN]," says Rho Cauley-Bruner, Northrop's Triton programme manager.
"We are on schedule to deliver Triton's powerful capability in support of Australia's national security."
Canberra is to receive the Multi-Intelligence (Multi-Int) version of the Triton, the same version that is set to receive initial operating capability in USN service. This, says Northrop, will allow the RAAF and USN to share data and provide "an unblinking autonomous intelligence, surveillance, reconnaissance and targeting capability over some of the world's most critical maritime regions."
Group Captain Jason Lind, the RAAF's director of intelligence, surveillance, reconnaissance and electronic warfare, says the service is pleased with the progress with the first Triton.
"I am looking forward to seeing our first Triton roll off the production line and then commence flying in Australian skies in 2024. This capability will extend Australia's ability to see and understand our maritime approaches to the north and also as far south as Antarctica."
The RAAF plans to obtain six, and possibly seven, MQ-4Cs in the same configuration as the USN.