Six consecutive days of air attacks in Moscow have disrupted commercial air travel at the Russian capital's international airports.
Russian authorities on 23 August temporarily halted flights from all four airports in the Moscow area, including Vnukovo International, Moscow Domodedovo, Sheremetyevo International, and Zhukovsky International, after multiple incursions into the local airspace by unmanned aerial vehicles (UAVs).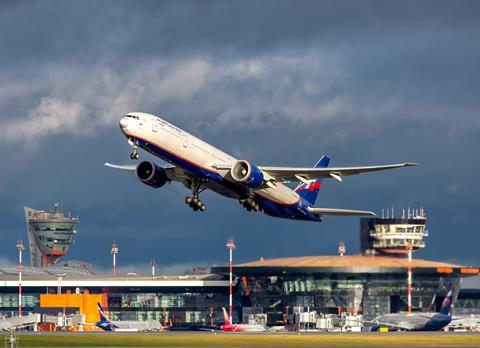 The move follows similar flight restrictions imposed on 22, 21, 20 and 18 August, which disrupted at least 90 commercial flights. In each case, authorities lifted airspace closures after a few hours.
Flights affected by the various airspace closures have been redirected to alternate destinations, including Nizhny Novgorod, St Petersburg and Minsk in Belarus, according to Russian civil air regulator Rosaviatsiya.
Meanwhile, Kyiv on 23 August claimed its forces had destroyed a powerful Russian S-400 air defence system on the strategically important Black Sea peninsula of Crimea.
Separately, UAV strikes at two military airbases in Russia on 20 and 21 August destroyed a Tupolev Tu-22M3 supersonic bomber. UK military intelligence confirmed the aircraft's destruction on 22 August.
Local media outlets in Ukraine reported the attack was the product of saboteurs working with Ukrainian intelligence, although that claim has not been verified.
Although Kyiv has typically refrained from taking credit for strikes within Russia, the Moscow government has repeatedly blamed Ukraine for the recurring UAV attacks.
"The Ukrainian unmanned aerial vehicle was detected over the territory of the Moscow region and suppressed by electronic warfare forces on duty," the Russian defence ministry said on 21 August on the social media platform Telegram.
Moscow reported destroying another UAV later that day, reporting no fatalities from those incidents. The Russian government characterises the incursions as "terrorist attacks".
Throughout the course of its 18-month war in Ukraine, the Russian military has repeatedly struck civilian population centres with cruise missiles and so-called "kamikaze drones" supplied by Iran.
Ukraine has lately shown both the willingness and capability to strike deep within Russian territory. For several weeks, such attacks have struck commercial, residential and government buildings around Moscow.
In May, a UAV impacted the Kremlin complex in the heart of Moscow – the seat of Russia's government and near the residence of President Vladimir Putin.