Turkish aerospace firm Baykar Technology has signed a deal with Saudi Arabia for its Akinci unmanned air vehicle (UAV).
The Akinci will be operated by both the Saudi air force and navy, according to the company.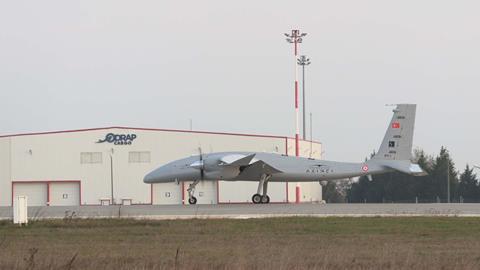 It gave no details about the deal's value, delivery timelines, or the number of UAVs involved, but billed the sale as a "major export and cooperation agreement for Turkey."
The signing coincided with a visit to Saudi Arabia by Turkish president Recep Tayyip Erdogan.
In addition to the aircraft, the deal involves technical support, logistics, and training.
The agreement also covers technological transfer and production work in Saudi Arabia.
The Akinci is powered by a pair of turboprop engines and can carry a range of sensors and weapons.
"[The] Akinci is capable of conducting operations that are performed with fighter jets," says Baykar.
"It carries electronic support systems, dual satellite communication systems, air-to-air radar, collision avoidance radar and synthetic aperture radar. [The] Akinci can be used in air-to-ground and air-to-air attack missions as well."
Baykar says that the system features "artificial intelligence avionics" that provide real time signal processing, sensor fusion, and situational awareness.
The Akinci has endurance of 24h and has an automatic take off and landing capability.