South Korea's Agency for Defense Development (ADD) has developed an autonomous navigation system for unmanned air vehicles (UAVs) that helps them avoid threats and dangerous situations.
In addition, the technology can assist a UAV in prioritising aspects of a mission, depending on what it encounters in a conflict zone, says the ADD. This sees aircraft sensors monitor the situation outside the aircraft, and then automatically generate the necessary algorithms for the continuation of the mission.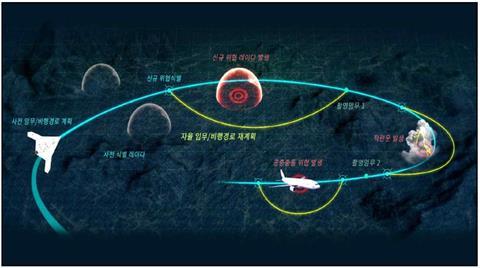 The ADD adds that it aims to help UAVs operate autonomously in the complicated battlefields of the future. The next stage is developing autonomous systems that can operate on their own, or with humans 'on-the-loop' – monitoring the system and intervening only when necessary.
Longer term, the ADD aims to develop artificial intelligence (AI) systems that can help large numbers of UAVs, manned aircraft, and ground systems operate in a tactical setting. It also sees applications for the automatic navigation technology in the frontier field of urban air mobility.
In recent years Seoul has shown a strong interest in autonomous systems.
In March, Korea Aerospace Industries (KAI) signed deals with both Israel Aerospace Industries (IAI) and Elbit Systems related to UAVs.
KAI will collaborate with IAI on loitering munitions, and with Elbit on "next generation" UAVs for intelligence, surveillance and reconnaissance.
In October 2017, Kang Wanguu, director of the Unmanned Vehicle Advanced Research Centre at the Korea Aerospace Research Institute, said AI would be a critical enabler for UAVs operating in contested airspace.
"If a UAV is operating over enemy territory and loses its connection with the operator, it is no more than a two-year-old child that cannot find its way home," said Kang.
He deemed it essential to move from a situation where there is a "man-in-the-loop" – making decisions for the UAV – to one where there is a "man-on-the-loop."