Taiwan has ordered four General Atomics Aeronautical Systems MQ-9B SkyGuardian unmanned air vehicles (UAVs), which will bolster its surveillance capabilities against an increasingly aggressive China.
The order was revealed in a 31 August Facebook post by Wang Dingyu, a member of Taiwan's parliament.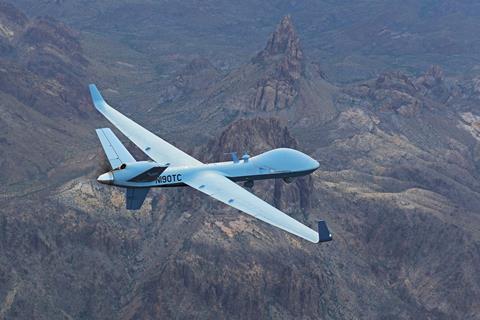 Wang wrote that the deal was signed on 24 August, with the contract process to be completed by 29 August.
In November 2020, the US government cleared the sale of four MQ-9Bs to Taiwan. The US Defense Security Cooperation Agency valued the possible transaction at $600 million.
According to Wang, the acquisition followed extensive discussions between the Taiwanese and US governments. He adds that the MQ-9B's loitering time will greatly enhance the country's surveillance capabilities.
Wang's announcement comes as Beijing ratchets up rhetoric and airpower demonstrations against the self-governed island state, which it views as a breakaway province that it aims to unify with Mainland China – possibly with force.
For years, the People's Liberation Army Air Force (PLAAF) has conducted aerial incursions into Taiwan's air defence identification zone (ADIZ). China's growing navy is also active in the seas around Taiwan.
Aerial incursions picked up sharply after US House Speaker Nancy Pelosi visited Taiwan on 2 August. Beijing also used Pelosi's visit as an excuse to launch rockets into the ocean around Taiwan, simulating a potential blockade.
Daily incursion figures posted by Taiwan's Ministry of National Defense indicate that there have been 542 PLAAF sorties into Taiwan's ADIZ since the beginning of August. Some of these have breached the so-called 'median line' in the Taiwan Strait, which separates the two countries.
The vast majority (91%) involve fighter aircraft, namely the Sukhoi Su-30, Shenyang J-16, and J-11. Bombers, support aircraft, and UAVs have also participated in ADIZ sorties.