A little-known company in California's high desert will deliver a new prototype aircraft to help the US military train its pilots against advanced stealth fighters.
Tehachapi-based Sierra Technical Services (STS) was awarded a $77.1 million Pentagon contract on 4 August to deliver a prototype uncrewed aerial target aircraft capable of replicating the flight characteristics of the most-advanced enemy fighter jets.
"Key amongst these characteristics", according to the Pentagon, "is size, signature and electronic attack payloads".
Those attributes "significantly impact acquisition, tracking and guidance of anti-air systems", the Pentagon contract announcement with STS notes, saying the fifth-generation traits must be "adequately represented" in a target platform to ensure proper testing.
STS has previously described its experimental 5th Generation Aerial Target (5GAT) as a "high-performance, unmanned, fighter-size aircraft" meant to be "threat representative", including low observability.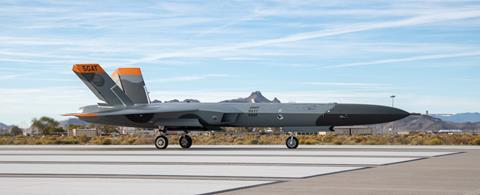 Fifth-generation aircraft such as Russia's Sukhoi Su-57 and China's Chengdu J-20 are of particular concern to military planners in Washington because they represent a substantial improvement from older platforms in both aerodynamic performance and the ability to avoid radar detection.
"The purpose of aerial targets is to replicate critical characteristics of threat aircraft, such as performance, signature and countermeasures," the STS contract announcement notes, which was released publicly on 7 August.
While actively serving fifth-generation assets such as the Lockheed Martin F-22 and F-35 can be used for adversary air (ADAIR) training, they are limited in number and expensive to operate. Using the highly-sophisticated fighters for training limits the number available to commanders when operational needs arise.
ADAIR, which makes use of piloted fighters, also does not address the need for live fire testing of air-to-air weapons and the use of electronic warfare systems.
Although the USA does operate Boeing QF-16 remotely piloted "Zombie Vipers" as remotely-flown aerial targets for fighter pilots, the F-16-derivative platform does not adequately replicate a fifth-generation threat.
"Unmanned versions of retired fighter aircraft have previously been employed for this mission," the Pentagon notes of the aerial target mission. "However, due to the increased cost and lifespan of the latest, fifth-generation of fighter aircraft, there are no retired airframes available that adequately represent the characteristics of fifth-generation threats."
Enter the STS 5th Generation Aerial Target (5GAT).
The remotely-piloted craft is a purpose-built unmanned aerial vehicle (UAV) designed to simulate the flight performance of fifth-generation fighters like the Su-57 and J-20.
The California company was founded by former Lockheed Martin Skunk Works engineers Roger and Debra Hayes in 2006. The husband-and-wife team have been developing the 5GAT since 2008, according to the STS website.
"The 5GAT is a high-performance, unmanned, fighter-size aircraft that shall be used for air-to-air and ground-to-air weapons evaluation, pilot training and ground forces training when translated into production," the company says.
The experimental design incorporates two afterburning jet engines into a 95% carbonfibre airframe, according to STS.
The company did not immediately respond to a request for comment on the latest contract. However, previous statements confirm STS was awarded an initial 5GAT development contract in 2017, with scheduled delivery and flight testing by 2021.
The 4 August 5GAT contract announcement notes a single prototype aircraft was constructed in 2020 and brought to Dugway Proving Grounds in Utah for testing.
While the vehicle successfully met ground test objectives, according to the Pentagon, "the air vehicle was lost during its maiden flight test as the result of an undiscovered software error".
Despite that setback military officials still consider the aircraft configuration and overall design to be sound.
"The principal objectives of this project are to refine the aircraft design to meet its performance goals, build one or more prototypes, and conduct the necessary ground and flight testing… to prove the efficacy and affordability of the base vehicle design," the Pentagon says.
Roger Hayes, who currently serves as president of STS, confirmed the contract via a LinkedIn post on 17 August, noting the deal covers fabrication of two aircraft.
"Sierra Technical Services was just awarded a new contract to incorporate design improvements, build and flight-test two more 5th Generation Aerial Targets," he says. "The 5GAT aircraft is a high-performance, high-subsonic, stealthy, unmanned, fifth-generation, twin after-burning jet aircraft."
Hayes adds the company is seeking to immediately hire "all types" of engineers and composite fabricators to support the ramp up. Neither STS nor the Pentagon specified a target for the prototype's first flight.
If ultimately successful, the 5GAT could represent a long-term boon for the small start-up.
The Pentagon says it anticipates a follow-on production contract "without the use of competitive procedures if the participants in this transaction successfully complete the prototype project".