For the first time, an unmanned air vehicle (UAV) has delivered cargo from a base on shore to a US Navy (USN) ship at sea.
The USN said on 21 December the service's Naval Air Warfare Center (NAWC) successfully employed multiple unmanned air systems (UAS) to transport cargo weighing less than 22.5kg (50lb) to a vessel underway.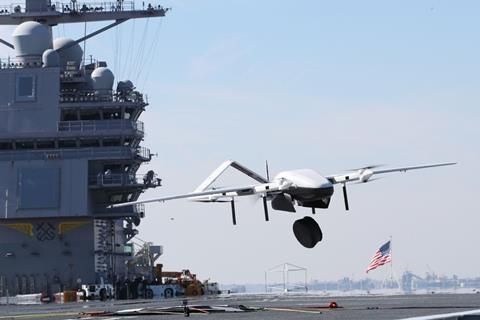 The project is known as the Blue Water Logistics Maritime UAS.
Two aircraft were used in the demonstration. One was the Skyways V2.6B – a hybrid-electric, vertical take-off and landing (VTOL) autonomous system powered by eight propellers.
The other craft was Martin UAV's V-Bat 128 – another VTOL UAS that uses a proprietary ducted fan single propeller mounted underneath the type's fuselage to take off in an upright orientation, before transitioning to horizontal flight.
"The navy is currently identifying areas where unmanned logistics would be a critical enabler to operations at sea, and the Blue Water Maritime Logistics UAS is a great demonstration of this emerging requirement," says US Marine Corps Colonel Victor Argobright, manager of the USN's Small Tactical UAS programme.
While 22.5kg may seem insignificant when it comes to resupplying ships with hundreds or even thousands of crew members, the USN says 90% of its cargo shipments fall under that weight threshold.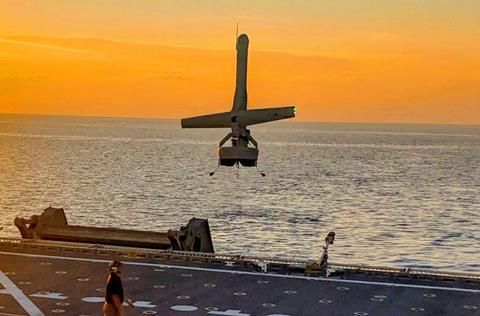 Currently, missions to resupply at sea are flown by larger, crewed aircraft such as the Bell Boeing V-22 Osprey tiltrotor, Sikorsky SH-60 Seahawk helicopter or the Northrop Grumman C-2A Greyhound turboprop. The USN says transitioning to smaller, cheaper UAS platforms for its low-weight resupply missions will save money and increase efficiency.
"We are seeing an increase in manned and unmanned logistics," Argobright notes.
During the recent demonstration, the Skyways and Martin UAVs completed long-range flights from ship-to-ship, ship-to-shore, and shore-to-ship situations, carrying a variety of objects to mimic critical supplies, the USN says.
Both systems successfully delivered cargo over 200nm (370km) onto a moving ship underway, and were able to operate without dedicated launch and recovery equipment.
For now, the idea of using UAS to deliver cargo at sea is still just an experimental concept for the USN.
"We are looking at continued long-term experimentation, how the fleet operates, and how we get the technology out to our sailors," says Tony Schmidt, the NAWC's experimentation office director.
See footage of the US Navy's cargo delivery test here: