UMS Skeldar has unveiled a lightweight addition to its range of vertical take-off and landing unmanned air vehicles (UAVs), with the V-150 to be available for delivery from later this year.
With a 150kg (340lb) maximum take-off weight and planned 4h operating endurance, the new model expands the European manufacturer's product range beyond the larger V-200 and R-350 products.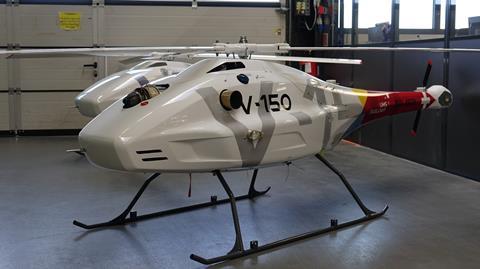 The rotary-wing V-150 has a fuselage length of 3.2m (10.5ft), and a main rotor diameter of 3.4m. It can carry a nose-mounted electro-optical/infrared camera weighing up to 12kg, while with a 30kg capacity, its main payload bay can accommodate a synthetic aperture radar, signals intelligence equipment or a multi-spectral sensor suite.
Alternatively, the main payload space could be used to transport equipment, while incorporating a data link would enable beyond line-of-sight operations.
Unveiled at the UMEX unmanned systems conference in Abu Dhabi on 23 February, the V-150 has been optimised for use from small naval vessels, but could also be employed in support of the homeland security, oil and gas and energy sectors, the company says.
Vice-president business development and strategy David Willems notes that the company launched the project following a "specific customer request" from a naval operator looking to acquire "a smaller vehicle, with a smaller footprint". This also prompted its choice of a heavy fuel engine.
Flight testing performed to date has used a gas turbine offering a 2.5h endurance, with a validation campaign nearing completion. However, Willems says production aircraft will be equipped with a rotary engine, boosting performance.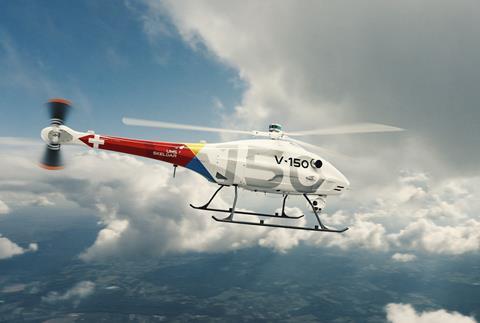 "We are around two months away from being ready for customer deliveries," Willems says. UMS Skeldar is "seriously engaged in a couple of discussions" with potential buyers, he adds, noting: "we hope we can make an announcement in the near future".
A joint venture between Saab and Switzerland's UMS Aero Group, the company already supplies the V-200 for military maritime use.
Willems says the V-150 could be used in combination with the larger model, or employed as a training asset supporting the V-200, due to its operating cost being around 40-45% lower.
Pointing to the new model's extensive use of commercial-off-the-shelf equipment and UMS Skeldar's adoption of predictive maintenance techniques, Willems notes: "We needed to have a platform that would be cost-effective to do a range of missions."