The US Air Force Special Operations Command (AFSOC) has ordered three General Atomics Aeronautical Systems (GA-ASI) MQ-9B SkyGuardian unmanned air vehicles (UAVs), the first sale of the variant in the USA.
The UAVs will help AFSOC develop its new Adaptive Airborne Enterprise (A2E) concept, providing long-range airpower for special forces, using both large UAVs and smaller, expendable systems, says GA-ASI.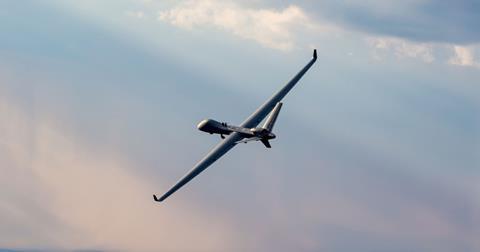 AFSOC is familiar with GA-ASI's systems, having operated over 40 MQ-9A Reapers over the last 14 years.
"We're very excited to continue our great partnership with AFSOC well into the future," says GA-ASI president David Alexander.
"MQ-9B is the ideal platform for inserting air-launched effects into potentially hostile environments. The MQ-9B's combination of range, endurance, reduced manpower footprint, and overall flexibility will make it a true centerpiece of AFSOC's future family of advanced UAS systems."
Customers for the MQ-9B include the UK, Belgium, and Japan.
Separately, GA-ASI says it will continue to support the US Defense Advanced Research Projects Agency's (DARPA's) LongShot programme, which envisages air-to-air weapons being carried in an unmanned, air-launched air vehicle.
"Current air superiority concepts rely on advanced manned fighter aircraft to provide a penetrating counter-air capability to effectively deliver weapons," says GA-ASI.
"It is envisioned that LongShot will increase the survivability of manned platforms by allowing them to be at standoff ranges far away from enemy threats, while an air-launched LongShot UAV efficiently "closes the gap" to take more effective missile shots."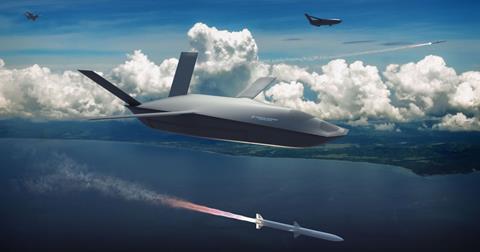 GA-ASI has participated in both the first and second phases of LongShot. A critical design review will complete phase two, which also involved a "multi-body wind tunnel" test, that explored air-to-air weapon separation.
The company is generating a proposal for the third phase of the programme.
"Upcoming Phase 2 ground tests will demonstrate the viability of key subsystems," says GA-ASI. "Phase 3 would initiate the prototype manufacturing and flight testing phase of the program. Flight testing would begin in 2024."