The US Air Force (USAF) has divested five Northrop Grumman RQ-4 Block 30 Global Hawk unmanned air vehicles (UAVs) back to their manufacturer. In total, Northrop will take possession of 20 such UAVs by late July.
The divestment of the intelligence, surveillance and reconnaissance (ISR) aircraft is part of a plan to restructure ISR capabilities to better meet national defence priorities, the USAF said on 23 June.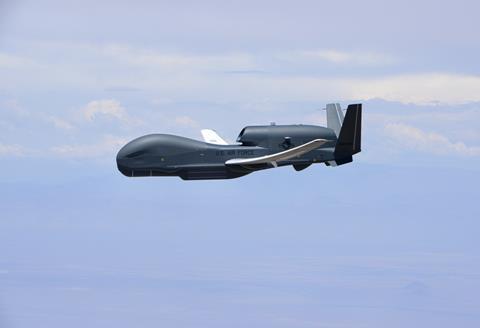 "We must transform our force today to the air force we need tomorrow," says USAF chief of staff General Charles Brown Jr. in a memo ordering the turn over.
"The divestment of this weapons system was a tough but necessary resourcing choice we had to make in order to begin realising budgeted savings of over $2 billion," Brown adds.
The USAF says that savings from the divestment will be used to fund modernisation and "increases capability to counter threats posed by peer competitors like China and Russia".
Northrop is taking possession of the Global Hawk UAVs at the Grand Sky aviation industrial park in Grand Forks, North Dakota.
The 20 RQ-4s will be outfitted with a new sensor package before beginning a new test role with the Department of Defense's Test Resource Management Center.
The USAF says the previous operators of the Block 30 aircraft, the 319th Reconnaissance Wing based in Grand Forks, will continue to operate Block 40 RQ-4 UAVs through the late 2020s.