Five manufacturers are advancing designs to replace the US Army's fleet of small reconnaissance unmanned aerial vehicles (UAVs).
The service is seeking replacements for its Textron RQ-7B Shadow UAVs, under a programme dubbed Future Tactical Unmanned Aircraft System (FTUAS). RQ-7Bs currently provide surveillance, reconnaissance and target acquisition support to the army's ground combat units.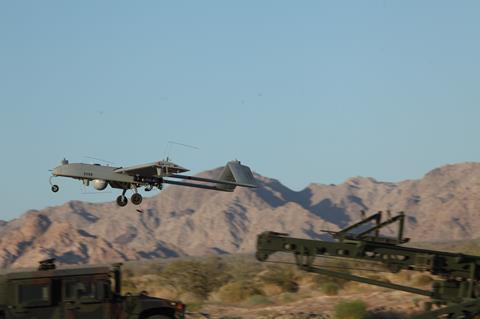 The army on 27 February awarded five rapid prototyping contracts to manufacturers developing FTUAS designs, including AeroVironment, Griffon Aerospace, Textron, Sierra Nevada and Northrop Grumman.
"The awards are based on the results of a competitive evaluation and vary from [approximately] $1 million to $25 million," the army said on 28 February. The specific value of each contract was based on each competitor's current stage of progression through the design process.
The FTUAS effort consists of five development phases, according to the army, including a base and four option periods occurring between 2023 and 2025. The Base, Option 1 and Option 2 periods consist of successive design reviews, while Option 3 will cover flight demonstrations.
During the final period of Option 4, FTUAS participants are to deliver four fully functional aircraft, including ground controllers, airborne payloads and all necessary maintenance equipment.
The army says the new platform will provide a "distinct tactical advantage over current systems". While the RQ-7B is launched from a pneumatic catapult, the FTUAS will be capable of vertical take-off and landing (VTOL).
In addition to more flexible manoeuvrability with VTOL capability, the new type will boast "reduced transportation and logistics footprint, as well as significantly improved survivability due to reduced noise signature", the army says.
The service also notes the FTUAS designs must be able to operate in environments lacking GPS navigation capabilities. Military strategists expect widespread use of GPS jamming technologies in any future conflict against near-peer adversaries such as China or Russia.
"FTUAS will revolutionise the way our soldiers fight and win wars by providing enhanced reconnaissance, surveillance and target acquisition, with unparalleled speed and agility," says Colonel Danielle Medaglia, Unmanned Aircraft Systems project manager.
The final FTUAS design is to operate at low to medium altitudes and include capabilities such as modern data links, electro-optical and infrared sensors, infrared-laser target designation, laser range finding, data encryption, manned-unmanned teaming technologies and the ability to operate autonomously, the army says.