The US Army has advanced four designs in its effort to develop a new tactical unmanned aerial vehicle (UAV).
The army on 24 May said designs by Griffon Aerospace, Northrop Grumman, Sierra Nevada and Textron will all move to the next stage of evaluation in the service's Future Tactical Uncrewed Aircraft Systems (FTUAS) programme.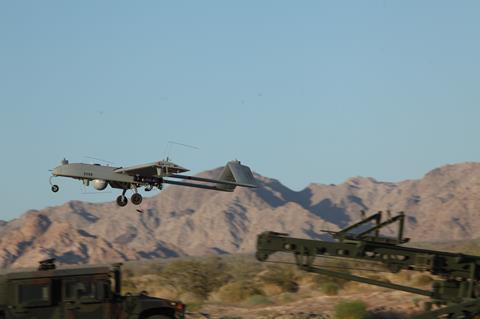 "The FTUAS is the army's premier vertical take-off and landing (VTOL) uncrewed aircraft modernisation effort," the service's aviation procurement office says.
The FTUAS development programme aims to deliver a replacement for the Textron RQ-7B Shadow UAV, which currently provides surveillance, reconnaissance and target acquisition support to the army's ground combat units.
According to the army, requirements for FTUAS designs include runway independence, point take-off and landing – also known as VTOL – and a rapidly deployable capability. The goal of the new aircraft is to improve the ability of ground troops to "collect, develop, and report actionable intelligence".
The army notes the requirement of VTOL capability will significantly expand the effectiveness and flexibility of the future UAV when compared to its predecessor. The RQ-7B must be launched from a pneumatic catapult.
The service also notes the FTUAS designs must be able to operate in environments lacking GPS navigation capabilities. Military strategists expect widespread use of GPS jamming technologies in any future conflict against near-peer adversaries such as China or Russia.
"FTUAS will revolutionise the way our soldiers fight and win wars by providing enhanced reconnaissance, surveillance and target acquisition, with unparalleled speed and agility," says Colonel Danielle Medaglia, Unmanned Aircraft Systems project manager.
In February, the service announced it had advanced five FTUAS proposals into the first round of design reviews, known as the Base period. The total programme will cover five development phases, according to the army, including the base and four option periods occurring between 2023 and 2025.
The Base, Option 1 and Option 2 periods consist of successive design reviews, while Option 3 will cover flight demonstrations. During the final period of Option 4, FTUAS participants are to deliver four fully functional aircraft, including ground controllers, airborne payloads and all necessary maintenance equipment.
The 24 May announcement represented the end of the Base period and the start of Option 1. UAV manufacturer AeroVironment, which produces notable systems including the Switchblade series of loitering munitions and numerous small reconnaissance platforms, did not advance into Option 1.
"AeroVironment completed the base period of performance, and [we] are grateful for their commitment and professionalism in advancing the FTUAS programme of record," the army's UAV procurement office says.
The final FTUAS design is to operate at low to medium altitudes and include capabilities such as modern data links, electro-optical and infrared sensors, infrared-laser target designation, laser range finding, data encryption, manned-unmanned teaming technologies and the ability to operate autonomously, the army says.