The US Army plans to field prototype artificial intelligence software that would allow soldiers to control unmanned aerial vehicles (UAVs) using voice commands.
The system, known as "Anura", is being developed by Connecticut-based start-up Primordial Labs. The company is now working on a prototype version of Anura to function with Teledyne FLIR's Black Hornet nano UAV.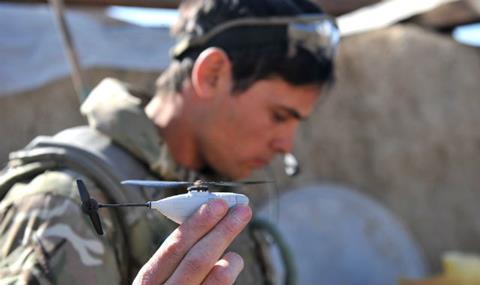 Primordial said on 21 August that US Army Special Operations Command (USASOC) awarded it a business-innovation research grant that will put Anura "into the hands of special operators to make it easier for them to control drones during combat missions".
The programme will expand on Primordial's work with the Black Hornet, with the contract covering prototype voice control kits for multiple small UAVs already being operated by USASOC.
"With Anura, war fighters can efficiently and safely execute multi-platform intelligence, surveillance and reconnaissance missions while reducing the training burden and complexity presented by platform-specific ground control stations," Primordial says.
In a May interview with FlightGlobal at the Special Operations Forces Week conference, Primordial's director of product Mick Adkins said the "conversational voice interface" technology will be platform-independent, meaning that it is not specific to any UAV type.
Adkins said Anura will lessen the cognitive burden on troops operating UAVs in the field by giving them "heads-up, hands-free control of unmanned systems".
Primordial chief executive Lee Ritholtz on 21 August called the army contract a significant milestone for the young company, which plans to release version 1.0 of its Anura system in the fourth quarter of 2023.
The company says it is accepting advance orders from national security customers.