The US Navy (USN) has awarded Boeing a $47.5 million contract to support long-lead production of the service's first autonomous aerial refueller.
The Department of Defense announced the contract under the MQ-25 Stingray programme on 28 September. Boeing confirmed the award and tells FlightGlobal that the funds will be used to support the procurement of materials needed for the start of low-rate initial production (LRIP) for the aircraft.
A company representative adds that the full production contract for LRIP Lot 1 airframes will come at a later date, but could not provide a timeline for delivery.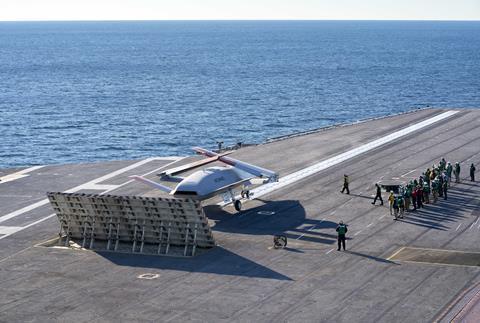 Boeing's MQ-25 is poised to become the USN's first carrier-launched, fixed-wing aircraft that operates without a crew. The MQ-25 is capable of autonomous take-off, flight and landing back on the carrier.
Ship-based sailors will use a remote terminal to steer the Stingray on the flight deck and monitor its flight operations. However, the platform does not require flight control input while in the air or when conducting tanking operations.
Test versions of the autonomous tanker have successfully refuelled a Boeing F/A-18 Super Hornet, a carrier-based Lockheed Martin F-35C Lightning II and a Northrop Grumman E-2D Hawkeye. The USN plans to have Stingrays supporting air wings on both its Nimitz- and Ford-class aircraft carriers.
Currently, the task of in-flight refuelling support is sometimes performed by Super Hornets, removing a combat fighter from other potential missions.
During a June visit to a Boeing defence production facility in St Louis, Missouri, MQ-25 programme chief engineer Jim Young told FlightGlobal that the company has seven flight-capable aircraft and two static test airfames. The company confirms those nine systems were funded under a USN engineering and manufacturing development contract.
Boeing says the USN plans to acquire 76 MQ-25 airframes in its programme of record. The company projected that it would begin LRIP work in 2024, with the Stingray fleet reaching initial operating capacity in 2025.
However, the MQ-25 is one of several Boeing aircraft development programmes that has been plagued by delays. A June report from the US Government Accountability Office found that Boeing was 10% behind schedule and 18% over-budget on development of the Stingray.
The company blames pandemic-related supply chain backlogs and labour shortages for some of those issues, while also noting "design challenges" related to the development of the first-of-its-kind aircraft.