The US Navy (USN) will purchase two Kratos XQ-58 Valkyrie autonomous aircraft for the service's Penetrating Affordable Autonomous Collaborative Killer (PAACK) portfolio.
The US Department of Defense (DoD) said on 30 December the USN had awarded a $15.5 million contract to Kratos to acquire two of its autonomous jet aircraft, with deliveries expected in 2023.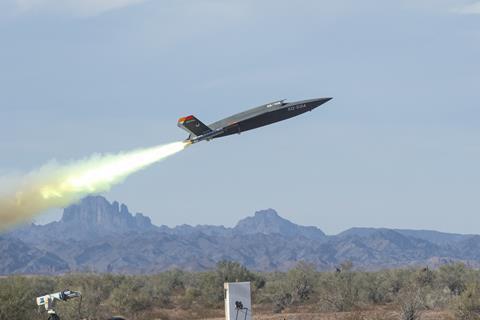 The USN now joins the US Air Force (USAF) as the only known Valkyrie operators. The USAF has been testing the XQ-58 as part of its classified Collaborative Combat Aircraft initiative, also known as "loyal wingman". The programme aims to team multiple uncrewed combat aircraft with conventional fighter jets.
Boeing is developing a similar aircraft, known as the MQ-28 Ghost Bat, for the Royal Australian Air Force.
Little is known about the USN's efforts at developing a manned-unmanned teaming (MUMT) programme. However, the Kratos XQ-58 contract notice indicates the recent PAACK award was not competitively procured, meaning Kratos was the only firm solicited.
US military procurement authorities may issue such sole-source contracts, without a competitive bidding process, when items or services are deemed necessary for experimental or test purposes.
USAF officials have said the MUMT concept will be a key aspect of the service's sixth-generation fighter programme, known as Next Generation Air Dominance. The USN calls its sixth-generation development programme F/A-XX.
The USN's 30 December contract award to Kratos specifies that the two XQ-58s will include "sensor and weapon system payloads to accomplish the penetrating affordable autonomous collaborative killer portfolio objectives".
Kratos's website describes Valkyrie as an experimental stealthy aircraft "capable of providing quick reaction runway-independent [unmanned air vehicle] support".
Runway-independence is achieved via a rocket-assisted take-off and parachute landing.
The XQ-58 boasts an operational ceiling as high as 45,000ft and range of some 2,607nm (4,830km), the manufacturer says.