The US Air Force Research Laboratory and India's Defence Research and Development Organisation plan to work jointly on air-launched unmanned air vehicles (UAVs).
The work will fall under the auspices of the US-India Defense Technology and Trade Initiative, a bilateral arrangement aimed at boosting the exchange of technology, joint research, and co-development of new defence systems, says the US Air Force (USAF).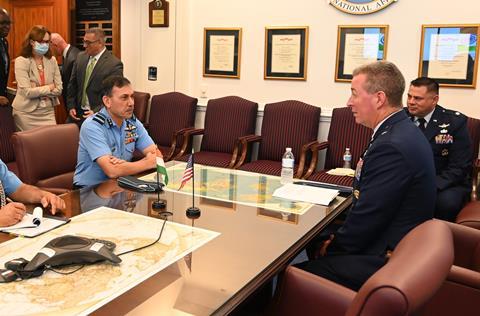 "The United States and India share a common vision of a free and open Indo-Pacific," says Kelli Seybolt, deputy undersecretary of the air force, international affairs.
"This co-development agreement further operationalises India's status as a major defence partner and builds upon our existing strong defence cooperation."
The project's value is in excess of $22 million, with costs shared between New Delhi and Washington DC. The largest such agreement between the two countries, it was signed on 16 July, the USAF announced on 3 September.
"The objectives are the design, development, demonstration, test and evaluation of technologies including physical hardware such as small UAVs, avionics, payload power, propulsion, and launch systems through prototyping that meet the operational requirements of the Indian and US air forces," adds USAF.
The US military is placing considerable resources into the development of air-launched effects (ALEs), essentially small UAVs deployed by larger manned or unmanned aircraft and helicopters.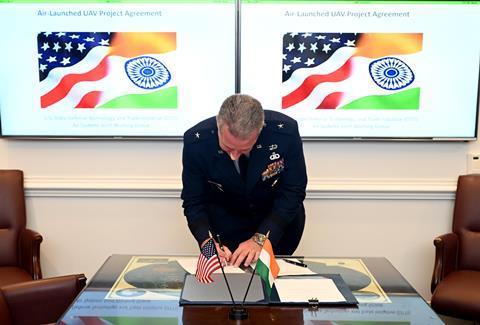 Mission sets for ALEs are likely to include intelligence, surveillance and reconnaissance, electronic warfare, and loitering munition strikes. The systems are seen as a way to counter integrated air defence networks deployed by potential rivals such as China and Russia.
At the Aero India show in February, Hindustan Aeronautics unveiled its developmental Combat Air Teaming System (CATS) concept.
One element of the concept is called CATS ALFA (Air Launched Flexible Assets), which would see a swarm of weaponised drones launched by CATS-MAX, a Tejas Mk-1A fighter acting as a 'Mothership for Air Teaming eXploitation', and the CATS Hunter, a multi-purpose weapons carriage system.