The US Air Force (USAF) has conducted a 3h sortie with a Kratos XQ-58A Valkyrie unmanned aircraft piloted by artificial intelligence (AI) agents.
The sortie took place on 25 July at Eglin AFB, Florida, according to a 2 August statement from the Air Force Research Laboratory (AFRL).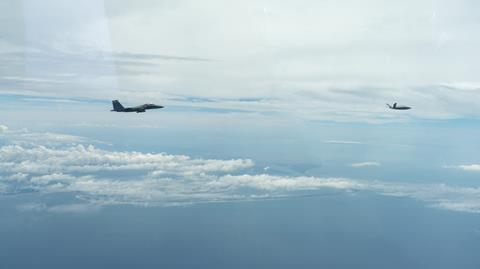 "The mission proved out a multi-layer safety framework on an [artificial intelligence/machine learning]-flown uncrewed aircraft and demonstrated an AI/ML agent solving a tactically relevant 'challenge problem' during airborne operations," says USAF Col Tucker Hamilton, commander of the 96th Operations Group.
"This sortie officially enables the ability to develop AI/ML agents that will execute modern air-to-air and air-to-surface skills that are immediately transferrable to the [Collaborative Combat Aircraft] programme."
During the sortie, the XQ-58A used algorithms produced by the AFRL Autonomous Air Combat Operations team. They were developed using "millions of hours in high fidelity simulation events", sorties with the Lockheed Martin X-62 Vista (a test aircraft based on the F-16), "hardware-in-the-loop events" including the XQ-58A, and ground tests.
The USAF revealed no details of the test, specifically the nature of the "challenge problem" the aircraft solved.
Unmanned combat aircraft with AI pilots promise to revolutionise air warfare, particularly if deployed in larger numbers of "attritible" aircraft.
"AI will be a critical element to future warfighting and the speed at which we're going to have to understand the operational picture and make decisions," says Brigadier General Scott Cain, AFRL commander.
"AI, autonomous operations, and human-machine teaming continue to evolve at an unprecedented pace, and we need the coordinated efforts of our government, academia, and industry partners to keep pace."