The US Marine Corps (USMC) successfully completed its first test flight with the Kratos XQ-58 Valkyrie autonomous jet, officially becoming the second military operator to fly the experimental type.
The flight took place on 3 October at Eglin AFB in Florida, home of the US Air Force's (USAF's) 40th Flight Test Squadron, which is supporting the evaluations. The USMC revealed the milestone on 5 October.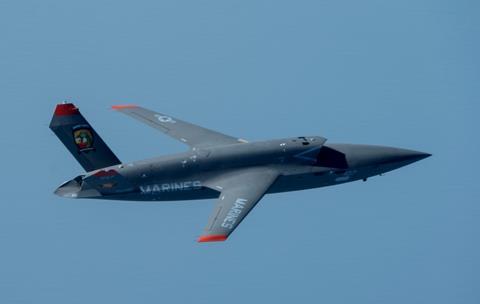 "The Marine Corps constantly seeks to modernise and enhance its capabilities in a rapidly evolving security environment," says Lieutenant Colonel Donald Kelly, with the USMC's aviation department.
The service currently possesses two XQ-58s, which the navy purchased from Kratos in January. The two jets were delivered in March, under the US Navy's Penetrating Affordable Autonomous Collaborative Killer programme.
The USMC plans a total of six test flights with the Valkyrie that will "help to inform future requirements" for autonomous aircraft, says Scott Bey, a prototyping and experimentation portfolio manager at the Pentagon.
Over the course of the six test flights, the USMC says it will evaluate the ability of the XQ-58 – and artificial intelligence-powered aircraft more broadly – to perform a variety of missions, including intelligence gathering, surveillance and reconnaissance, electronic warfare support to crewed platforms and augmenting combat air patrols.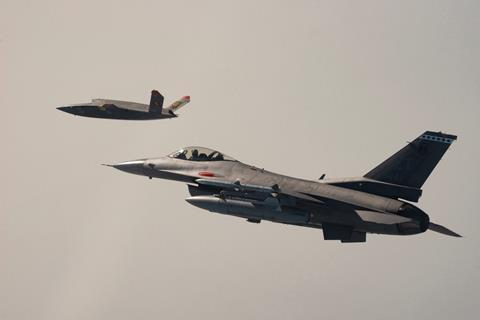 The service will also use the Valkyrie as a vehicle for "continuing to mature other manned-unmanned teaming capability objectives", the USMC says.
The USAF also operates the XQ-58 as part of a similar testing and evaluation programme. The Pentagon's primary air combat service is planning to substantially expand the role of autonomous jets, using so-called collaborative combat aircraft to support crewed fighters.
Kratos is an industry leader in that space, with the XQ-58 as its marquee product.
The company recently acquired competitor Sierra Technical Services, which is under contract with the Pentagon to develop a prototype autonomous target aircraft that can mimic the flight capabilities of a fifth-generation fighter.
Boeing is developing a similar autonomous aircraft in Australia, which it calls the MQ-28 Ghost Bat.
See launch video from the inaugural USMC XQ-58 flight here:

Ryan Finnerty is the Americas defence reporter for FlightGlobal.com and Flight International magazine, covering military aviation and the defence industry. He is a former United States Army officer and previously reported for America's National Public Radio system in New York and Hawaii covering energy, economics and military affairs.
View full Profile