Airbus Helicopters and Naval Group have successfully tested their jointly developed rotary-wing unmanned demonstrator aircraft aboard a French navy frigate.
Developed under France's Systeme de Drone Aerien Marine (SDAM) programme, the VSR700 was flown from the navy's Provence frigate in the Mediterranean Sea between 2-9 October.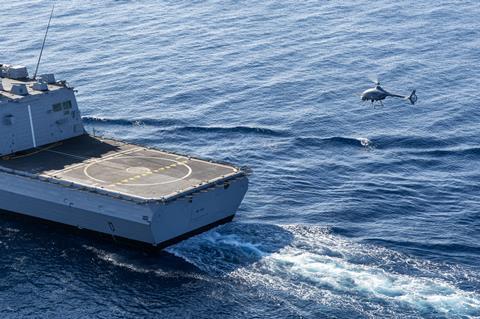 Naval Group, which provides the mission system for the Guimbal Cabri G2-based unmanned helicopter, had previously adapted the Provence to operate the SDAM demonstrator.
"We are proud to see that the SDAM and the VSR700 are maturing," says Bruno Even, chief executive of Airbus Helicopters.
"I look forward to further demonstrating the potential of our system and to collaborating with the French navy in order to offer an initial operational capability by 2026."
Airbus Helicopters and Naval Group were awarded a derisking study contract for the SDAM programme by France's DGA procurement agency in 2018.
The objective is to design, produce and test a rotary-wing unmanned aerial system demonstrator for the French navy capable of performing surveillance and intelligence-gathering missions.
Previous trials have seen the SDAM demonstrator flown from a variety of vessels, including in high sea state conditions.
Separately, Schiebel has demonstrated the ability of its Camcopter S-100 to perform a variety of naval missions at a month-long NATO exercise hosted by the Portuguese navy.
Tasks carried out by the S-100 included the deployment of NATO-standard G-size sonobuoys, mine-detection activities, and teaming with an unmanned underwater vehicle to act as a data relay.
The S-100's involvement in the exercises was sponsored by both the UK Royal Navy and the US Office of Naval Research, the Austrian manufacturer says.

Dominic Perry is deputy editor of Flight International but also contributes extensively to flightglobal.com. Although specialising in the coverage of the helicopter industry, he has written on most topics in aerospace – be they commercial, defence or business aviation. In addition, there has been an increasing focus on the decarbonisation of the industry and zero-emission flight initiatives.
View full Profile