The USA is seeking to further disrupt the supply chain for Iranian-made unmanned air vehicles (UAVs), many of which have been delivered to Russia for that country's unprovoked war in Ukraine.
The US Treasury on 27 September announced new sanctions targeting what the agency describes as a "procurement network" supporting the production of "one way attack UAVs".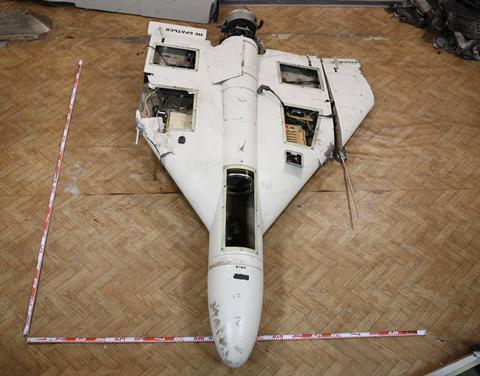 "This network has facilitated shipments and financial transactions in support of the Islamic Revolutionary Guard Corps (IRGC) Aerospace Force Self Sufficiency Jihad Organization's procurement of servomotors, a critical component used in Iran's Shahed-series UAVs," the treasury department says.
That network includes five entities and two individuals in mainland China, Hong Kong, Turkey and the United Arab Emirates (UAE), which Washington says have helped Iran avoid existing trade restrictions meant to restrain the acquisition and production of military equipment.
The firms targeted by the latest sanctions include Iran-based supplier Pishgam Electronic Safeh Company, Hong Kong-based servomotor producer Hongkong Himark Electron Model Limited, UAE-based logistics provider Farhad Ghaedi Goods Wholesalers and Turkish financiers Dal Enerji and Anka Port.
The sanctions mean the freezing of any US-based assets belonging to targeted individuals, as well as a general prohibition from using the US financial system.
"The United States… will persist in holding accountable those who contribute to Iran's proliferation of its UAVs to Russia, its proxies in the Middle East and other destabilising actors," says Brian Nelson, the US undersecretary of the treasury for terrorism and financial intelligence.
Any governments or corporations that make use of US banks, or deal in US dollars, are also forbidden from engaging in transactions with sanctioned entities – or risk being targeted for sanction by association.
In practice, Washington's global dominance of international finance gives the sanctions tool far-reaching, but not insurmountable powers.
Iran's Shahed Aviation Industries Research Center, which the US government previously labeled as a commercial firm "subordinate" to the IRGC military command, was sanctioned in 2022.
Shahed Aviation produces the Shahed-136 and other combat UAV types that have continued to see deadly use in Ukraine, despite sanctions on their manufacturer. The company recently unveiled a new jet-powered variant of the Shahed series, which Iranian state television says will be faster and more difficult to intercept.
Officially known as loitering munitions, and commonly referred to as "kamikaze drones", such vehicles come in a variety of sizes and differing capabilities.
The Shahed-136 type produced by Iran are essentially low-speed, lightweight cruise missiles. The one-way UAVs are armed with a conventional warhead and boast a range estimated to be as high as 1,350nm (2,500km).
Operated by Russia as Geran-2, Moscow has used the type to attack civilian targets and population centres in Ukraine.
The independent Conflict Armament Research (CAR) group in 2022 documented multiple instances of Shahed-136s being used in Ukraine, which Washington confirms.
"Iranian-made UAVs continue to be a key tool for Russia in its attacks in Ukraine, including those that terrorise Ukrainian citizens and attack its critical infrastructure," says Nelson.
Washington has already levied heavy financial sanctions against the Iranian economy, with a particular focus of restricting Tehran's ability to produce or procure advanced weapon systems.
However, that effort appears to have been at least somewhat ineffective, in the case of UAVs. The 2022 report by CAR found multiple types of Iranian-made UAV types and examples of precision guided munitions.
According to the group's analysis, wrecked aircraft reveal Iran has made substantial progress in advancing the capabilities of its UAV platforms in recent years. These include improved accuracy and incorporation of satellite navigation, which allows Shahed-131s and Shahed-136s "to operate in non-permissive environments".
In a blow to the sanctions strategy, Iran apparently achieved the improvements through incorporation of US and other Western-sourced components, despite widespread economic sanctions from both the USA and UN banning the sale of such goods to Iran, CAR's report notes.
Investigators documented components originating with 70 manufacturers in 13 countries. US-made hardware was particularly prevalent in the UAVs, despite Washington's near-total embargo on trade with the Islamic Republic.
US companies made 82% of the components. Of parts for which a manufacture date could be determined, 56% were produced after 2020 and 81% were produced after 2017 – well after the USA imposed economic sanctions.

Ryan Finnerty is the Americas defence reporter for FlightGlobal.com and Flight International magazine, covering military aviation and the defence industry. He is a former United States Army officer and previously reported for America's National Public Radio system in New York and Hawaii covering energy, economics and military affairs.
View full Profile