India will obtain the General Atomics Aeronautical Systems (GA-ASI) MQ-9B SeaGuardian unmanned air vehicle (UAV), in a significant boost to its intelligence, surveillance and reconnaissance (ISR) capabilities.
Confirmation that New Delhi will obtain the MQ-9B emerged in a lengthy White House statement related to Indian Prime Minister Narendra Modi's state visit to the USA.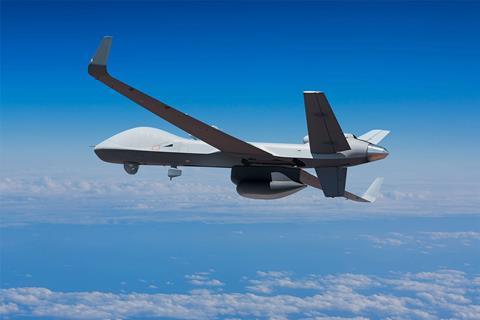 "President Biden and Prime Minister Modi welcomed India's plans to procure General Atomics MQ-9B [high-altitude, long-endurance] UAVs," says the statement.
"The MQ-9Bs, which will be assembled in India, will enhance the ISR capabilities of India's armed forces across domains. As part of this plan, General Atomics will also establish a comprehensive global MRO facility in India to support India's long-term goals to boost indigenous defence capabilities."
The deal reportedly involves 31 MQ-9Bs that will be operated by all three of India's armed services. On 15 June, news agency Reuters reported that the deal's value exceeds $3 billion.
As for local assembly, New Delhi's defence rules require 30% of an international acquisition's value to be ploughed back into the Indian economy by way of offsets. Moreover, Modi's 'Make in India' programme places great emphasis on local manufacturing.
GA-ASI has worked to bolster its Indian presence. In January, it partnered with Bharat Forge for the local production of aerostructures. The arrangement called for Bharat Forge to produce landing gear components, subassemblies, and assemblies for UAVs.
In September 2022, the airframer partnered with local artificial intelligence (AI) firm 114ai, with the goal of developing AI capabilities for military users.
In addition to announcing India's MQ-9B deal, the White House statement lauded a memorandum of understanding between GE Aerospace and Hindustan Aeronautics that could lead to production of the F414 fighter engine in India.