Artificial intelligence (AI) and the pace of technological change present significant challenges for air force leaders and have implications for the training of air force personnel.
AI is a major theme of the Dubai International Air Chiefs' Conference, which is taking place prior to the start of the Dubai air show. Key air force leaders laid out a range of challenges.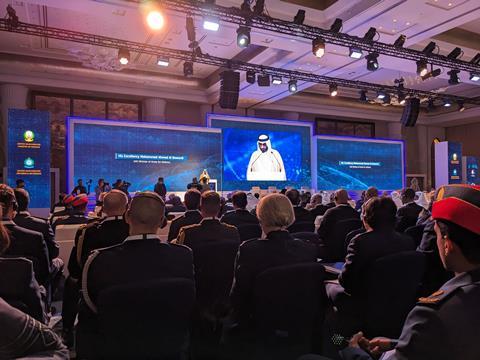 "The traditional hierarchy-based decision making [in air forces] may no longer work," says UAE air force Brigadier General Azzan Ali A Al Nuaimi, who commands the nation's air warfare and missile defence centre.
"It is key to understand AI and how to integrate lots of data for more informed decisions, but also key to strike a balance between trusting AI and human decision making."
He stresses that while AI will be a key tool in future decision making, pilots and other personnel must retain the ability to think and make decisions. To attain this, realistic training is key.
Also speaking at the event was Lieutenant General Luca Goretti, chief of staff of the Italian air force.
He related Italy's experience with the Leonardo M-346 advanced jet trainer, which allows cadets to practice against real aircraft and in challenging simulated environments.
Simulations can include threats such as radio frequency emitters, surface-to-air missiles, electronic warfare, and cruise missiles. Rome's acquisition of the Lockheed Martin F-35 has placed a premium on new ways of training.
"We need to change our mentality to cope with this new equipment," says Goretti. "This aircraft is not a flying machine, but a data-driven machine. It's a completely different story. We need to fly a different way… with fifth-generation [aircraft], the pilot has to manage data from the beginning."
Goretti also alludes to the need for collaborative combat aircraft to work alongside manned platforms.
"We can have the best aircraft, but if it's only a few it's not sufficient," he says. "We need leading edge technology to achieve critical mass."
Royal Australian Air Force Air Vice-Marshal Glen Braz observes that the availability of data to commanders is rapidly growing, which already presents a challenge to existing intelligence processes.
"The volume of data and verifiability present a challenge," says Braz. "People won't be able to make sense of it in a timely manner… we will need to team with machines to turn data into actionable intelligence at a speed that is relevant."