When your business relies on supplying replacement parts, there is bound to be a big impact when most of the world's airliner fleet is idle or under-used.
However, AJW Group, the privately-owned aftermarket specialist, has coped with a collapse in revenues by trimming costs and improving productivity – and, after renewing a seven-year contract with EasyJet last year, is anticipating a strong summer holiday season kicking off a recovery, says president Christopher Whiteside.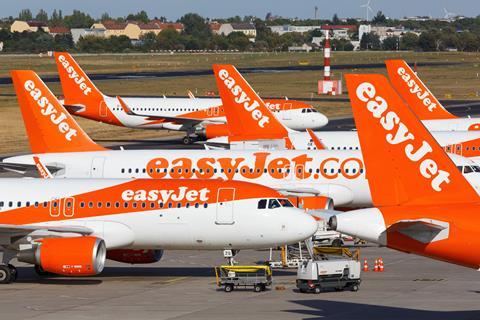 The company last month opened a 3,250m2 (35,000ft2) warehouse at Milan Malpensa to support the low-cost airline's continental Europe-based fleet. The move, says Whiteside, is partly a "Brexit mitigation strategy".
Under the deal with EasyJet – which extends an original 2015 agreement – AJW manages the airline's parts and consumables inventory, repairs and overhauls components, and delivers to EasyJet bases. The tender process began in January 2019.
AJW, based in Slinfold, near Gatwick airport, is also launching a European Union Aviation Safety Agency Part 145 maintenance operation at its West Sussex headquarters to support EasyJet and its other European customers. It will complement the AJW Technique component repair facility in Montreal, which the group acquired nine years ago. Whiteside expects the UK shop to be "active" by the final quarter of 2021.
Whiteside maintains the company will continue to "focus on digital" with the launch of a full e-commerce "store" on its website.
"Before you could look and trace whether a part was in stock," he says. "Now you can buy it online."
AJW has also been cushioned by a number of cargo airline customers which have continued an aggressive flying schedule through the crisis, including Silk Way Airlines in Azerbaijan and Amazon Air, adds Whiteside.
AJW often purchases parted-out aircraft for spares. While this activity slowed in 2020 due to a downturn in demand for aftermarket parts, the company did in October acquire three Rolls-Royce Trent 700-powered Airbus A330s previously flown by Thomas Cook UK, which are being torn down at Manchester airport. Removed components will be recertified at AJW Technique, and the inventory stored at the company's warehouses.
Whiteside says AJW had to revise a 2021 budget based on an "uptick" from April, due to uncertainty about quarantine rules around the world.However, he hopes the end of May will see the start of a strong rebound in the leisure sector. "Everybody will be happy if we get a fantastic June to October," he says.
But he warns that the industry's crisis is far from over. "So far, there has been an extraordinary lack of airline bankruptcies," he notes. "The shakedown is yet to come."