Boeing's maintenance hangar at London Gatwick airport is handling a "steady flow" of customer aircraft despite "much reduced" flying activity amid the pandemic, the airframer tells Cirium.
It opened the hangar in December 2019 and gained line-maintenance approval from the European Union Aviation Safety Agency during the first quarter of 2020. Base maintenance approval was granted during the third quarter.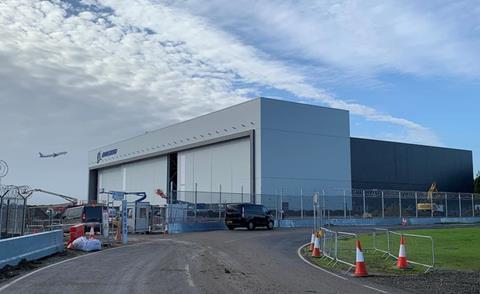 "The facility has been open for business in accordance with local guidelines throughout the Covid-19 pandemic," says Boeing. "We have adjusted our business plans to reflect the impact of the pandemic and changes in our customers' flying activity, including Norwegian."
The Scandinavian budget carrier was set to become a central customer at the hangar, for the support of 737s and 787s. After suspending much of its operation amid the pandemic and entering what it described as "hibernation mode", Norwegian earlier this month disclosed a plan to terminate its long-haul services and concentrate on short-haul and domestic flights with a sharply reduced narrowbody fleet. Cirium fleets data shows that the group has 102 737s and 35 787s.
Boeing designed the Gatwick hangar to support aircraft up to the under-development 777X, as part of a plan to grow aftermarket business. Norwegian assigned maintenance of its aircraft to the manufacturer's support programme, formerly known as GoldCare.
The aircraft engineers and support staff at the Gatwick hangar are Boeing employees, the airframer notes. It says that its investment, and that in a flight simulator centre near Gatwick, represents its "commitment to the European aviation market and aerospace expertise in the UK", adding: "We remain attentive to potential changes in the industry as we anticipate an increase in flying throughout 2021."