Package delivery company DHL Express has ordered nine of Mammoth Freighters Boeing 777-200LR cargo conversions from US aircraft services company Jetran.
DHL expects to receive the freighters between 2024 and 2027 and will use them as part of a fleet upgrade, it said on 20 April.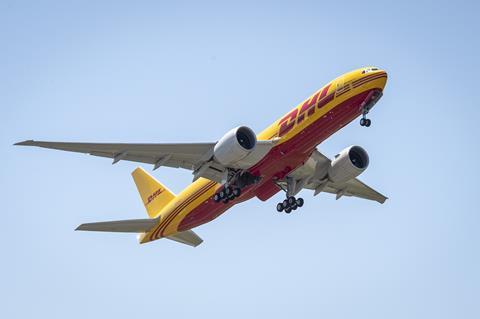 Orlando-based Mammoth came on the scene in 2020 as one of several companies modifying 777s – including -200LRs and -300ERs – from passenger to cargo operation.
"This agreement is part of the overall sustainability priority to modernise DHL Express's long-haul intercontinental fleet, including the replacement of older planes," DHL says.
"Ordering converted freighters with a shorter useful life provides an efficient bridge between current and new airframe technologies, such as the new-generation 777-8Fs and [Airbus] A350F."
Airbus aims to deliver its first A350F in 2025, while Boeing expects its first 777-8F to enter service in 2027.
Texas-based Jetran, which owns aircraft leasing and trading company Spectre Air Capital, confirms it took the nine-strong 777 order from DHL.
DHL says Mammoth-converted 777-200LRs – marketed as the 777-200LRMF – will have "similar characteristics and benefits" as production freighters. DHL has ordered 28 of the new-build 777Fs from Boeing in recent years, of which 18 are in service, it says.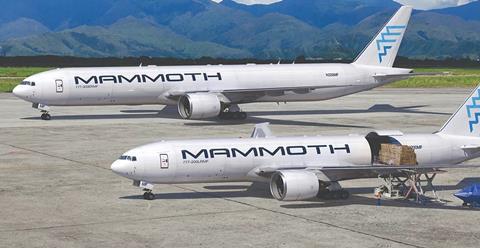 Mammoth is first developing its 777-200LRMF, which it says will have cargo volume of 650cb m (22,960cb ft) and maximum gross payload of 105,687kg (233,000lb). The company next plans to develop a 777-300ERMF converted freighter, with 814cb m of cargo volume and ability to carry up to 99,790kg of payload.
In October 2022, Mammoth said it had signed an agreement under which its 777s will be modified in the UK by STS Aviation Services.
Other companies offering 777 cargo conversions include Israel Aerospace Industries and Kansas Modification Center.