Finnair is to begin what it describes as the first-ever recycling of a commercial aircraft in its home country, ensuring that parts from the Airbus A319 can be reused as part of its sustainability strategy.
The Oneworld carrier sent an A319 to the UK for dismantling last year. Recycling this one in Finland will allow it to use its own in-house maintenance team for much of the work.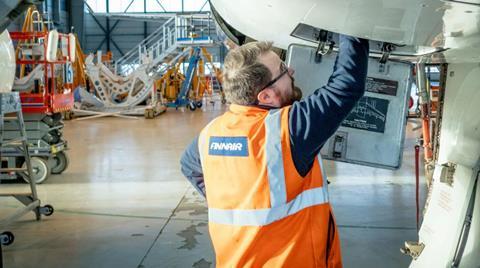 "There have been a lot of bad effects from Covid, but the pandemic has given us an opportunity to do this for the first time [in Finland]," states Timo Rossi, project manager for technical operations at Finnair. "It gives quite a lot of workload to our employees, because their current workload has decreased compared with this time last year. Now we have resources that we are able to use."
The move forms part of Finnair's sustainability strategy, whereby older aircraft are taken apart safely and reused where possible.
"It's going to be done in three parts," adds Rossi. "Finnair is going to remove bigger components such as the wings, engines, landing gears, auxiliary power unit. Then several hundred other parts will be taken off for eventual use in our active flying fleet."
Once the components have been removed by Finnair staff at Helsinki airport, the remaining parts of the aircraft will be transported to an external partner for further dismantling.
"As an airline, our plan is to reuse as many parts as possible. Our partner will be able to recycle more than 90% of the remaining aircraft, maybe 95%," states Rossi.
Components and parts from the aircraft will be reused and repaired if necessary. Finnair notes that it will store the parts within its own stock, giving it the flexibility to support the rest of its fleet when needed.
The project will enable Finnair to assess whether recycling aircraft at home is viable, rather than flying them to other countries for the work.
"We need to get through this, to put everything on paper and see what the numbers are. What is the benefit we are getting out of it? The sustainability and environmental point of view needs to be thought through too," notes Rossi.