The Covid-19 pandemic has jumbled the aircraft maintenance and repair industry, driving down prices for some aircraft components and leaving MRO shops reeling from depressed demand.
But amid the gloom come glimmers of optimism: some executives report a recent uptick in business and suspect demand will jump as airlines return jets to service.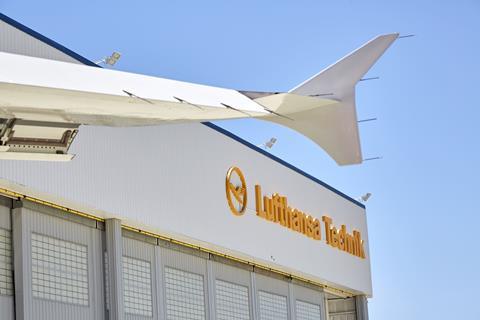 "We really started recovering now, in March," says Eric Van Lewis, owner of Patriot Components, an aerospace repair shop based near Miami.
He notes that, during the pandemic, airlines cannibalised parts from the hundreds of jets they had moved into storage, using those parts to keep their fewer active aircraft flying.
Once air travel demand returns, Van Lewis suspects, airlines will find themselves short of components. Their jets will need extra attention.
For that reason, "we think it has to get great," he says.
Van Lewis was among exhibitors in Orlando this week at the MRO Americas trade show – one of the first large, in-person aviation conferences since the pandemic started.
Other exhibitors likewise report encouraging trends, though they caution that determining whether sustained recovery is underway could take several months.
"In the past two months I've been seeing a lot of the passenger customers sending in parts for repairs," says Agueybana Ruiz, sales director at Miami-based component repair shop Avenir Aviation.
Before Covid-19, 40% of Avenir's business came from passenger airlines, with 60% coming from cargo carriers, says Ruiz.
That breakdown shifted to 95% cargo, 5% passenger during the pandemic.
But the passenger business has recently crept higher, now accounting for about 25% of Avenir's revenue, Ruiz says. The company's customers include Allegiant Air, Frontier Airlines, JetBlue Airways and UPS.
Lufthansa Technik has also benefited from the relative strength of airline markets in the USA and Mexico, where passenger volumes are creeping toward pre-pandemic levels, says the MRO company's vice-president of Americas sales Frank Berweger.
But recovery varies significantly by geography, he says, noting that air travel in places like Canada and Latin America remains severely depressed.
And while European officials have suggested they might open Europe to vaccinated Americans this summer, the critical US-Europe air market remains in tatters.
"It's not going to be a great year overall," Berweger says.
Lufthansa Technik expects air travel will return to 2019 levels between 2023 and 2024, and the company has responded to the pandemic by cutting costs and trimming management headcount.
Smaller MRO shops say they, too, have reduced headcount. They worry about finding qualified staff when recovery comes.
Lufthansa Technik's airline customers have been delaying major overhauls in favour of "more surgical" repairs and work that can be completed without removing engines, says manager of business development in the Americas Leonie Darsow.
In 2020, airlines globally spent an estimated $50 billion on MRO, 45% less than they might have spent if not for the pandemic, according to a January report from consultancy Oliver Wyman. In other words, the pandemic wiped out $40 billion in MRO business.
"Some of that $40 billion in lost 2020 demand will be pushed into later years as aircraft return to normal utilisation patterns, but much will be permanently lost as planes are retired early and expensive late-life checks are no longer needed," the report says.
Chuck Zhu, chief executive of Arizona-based component supplier Global Connects, says his business has been relatively strong recently because his customers include airlines based in China.
"They are back to 2019 levels," Zhu says of Chinese carriers.
"Parts are much easier to get" thanks to size of the grounded fleet and a surge in aircraft retirements, he adds. "There are so many tear downs."
In the last year, major US carriers like American Airlines and Delta Air Lines retired types like Airbus A330s, Boeing 757s, 767s, 777s, Embraer E190s, MD-88s and MD-90s.
"Airlines have lots of unused parts because they have retired so many aircraft types," says Kevin Michaels, managing director of aerospace consultancy AeroDynamic.
The extra inventory can push down the cost of some "surplus materials" by 20-30%, Michaels notes.