International Aero Engines president Earl Exum is optimistic that a turning point in engine overhauls has been reached after airlines cut back shop visits amid the crisis.
Exum tells Cirium that IAE's overhaul activity has increased 10-20% since the first quarter. "Q4 will be biggest quarter since we have had Covid and next year that growth trend continues," he says.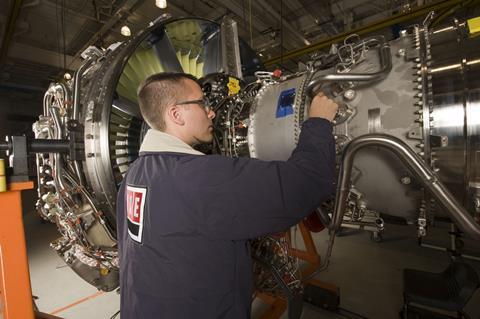 He predicts that shop visit growth in 2022 will be "at least as significant as this year", as regards full-performance restoration events for V2500s. Quick-turn shop visits – smaller, targeted repairs and module changes, which airlines favoured amid widespread availability of inactive engines during the pandemic – come "on top" of regular overhauls, says Exum.
IAE does not expect V2500 shop visits to reach pre-pandemic levels in 2022. However, Exum says a turnaround in overhaul activity is "right here" and that IAE is "focusing a lot of our attention to make sure that we have the capacity" to handle overhaul demand in its MRO network.
As part of that effort, IAE – a Pratt & Whitney-led engine joint venture with Japanese Aero Engine and MTU – is building up material provision, working with suppliers to ensure readiness for demand growth, increasing spare engine availability to match higher airline activity, and increasing staff in overhaul shops.
"We have to make sure the people are there to do those overhauls," says Exum.
Cirium fleets data shows that 2,336 V2500-powered Airbus A320-family jets were in service on 21 October, while 684 were listed as being in storage.
Exum says aircraft utilisation across the fleet currently averages around 70% compared with pre-Covid levels and that some operators have even surpassed pre-crisis activity.
The reduced activity still gives operators choice to deploy their most efficient assets, keep other aircraft on the ground, use green-time on serviceable engines, and delay overhauls – all tactics deployed amid the pandemic to avoid costly shop visits. But Exum argues: "As utilisation goes up, you can't be quite so selective. If an engine needs an overhaul, you have to get an overhaul.
"You also can't wait until you are at 100% utilisation and then decide that you want to get your fleet ready, you have to get your fleet ready now. I think customers are realising that."
NO SIGNIFICANT RETIREMENTS
When airlines parked aircraft en masse during the first Covid waves in 2020, there was concern at IAE that the grounded fleet could lead to widespread, premature aircraft retirements and increased availability of spare engines and used serviceable material.
"We thought there would be more engines available," Exum says. "We have haven't seen it." He says IAE's current V2500 fleet outlook has not significantly changed since 2019. "Our forecast stays solid. We looked at this a lot."
The engine maker has no more V2500s to manufacture for factory-new A320ceo-family jets – production is instead centred on engines for Embraer's C-390 military transport and spare equipment – but Exum is confident about the engine family's aftermarket prospects.
Almost 40% of the installed V2500 fleet has not undergone its first shop visit yet and, despite being superseded by the Pratt & Whitney PW1100G as on option on the A320neo series, the engine is still a "pretty comfortable" one for operators, Exum argues.
He pitches the V2500 as a reliable and affordable engine with competitive fuel efficiency and predictable maintenance requirements. "In uncertain times, it's really nice to have a machine you know and that you can rely upon," he says.
The proportion of the installed V2500 fleet covered by long-term service agreements with IAE will be remain at about 50% over the next five years or so, he says, but is thereafter set to decline as engines mature and operators manage the assets themselves.
Even though the V2500's days as an engine for new commercial aircraft has come to an end, Exum is optimistic that the C-390 programme opens new horizons for the engine family. Citing the longevity typically associated with military programmes, he says the V2500 could be in production for years to come, and output could possibly increase again.
"Compared with where we are today, there is upside to the production of the C-390," says Exum.
The Brazilian air force has received four C-390s and has 24 on order. The governments of Portugal and Hungary have ordered five and two C-390s, respectively, and tentative deals have been struck with additional operators.
This analysis is written by Michael Gubisch, part of Cirium's London-based reporting team