Kenya Airways has warned it may have to temporarily cut some frequencies if supply chain challenges continue to delay the return of its aircraft from scheduled maintenance.
The African carrier became the latest operator to flag the impact of the issue, warning customers of flight disruptions because of delays in the return to service of aircraft from scheduled maintenance resulting from supply chain issues.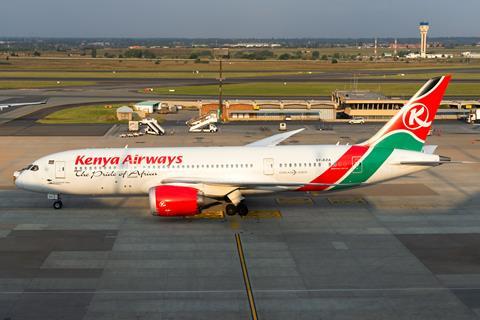 A number of airlines have in recent months been citing problems in securing aircraft and engine spare parts, and IATA chief executive Willie Walsh in December noted "the scale of it [is] a lot worse than I had realised" after a number of chief executives raised concerns around the issue.
Now Kenya Airways chief executive Allan Kilavuka has flagged the issue as the reason for some flight disruption.
"This has constrained our aircraft availability because we do not have extra aircraft capacity to help alleviate the delays," he says.
Post-Covid industry supply chain challenges have been intensified by sanctions on Russia following its invasion of Ukraine, notably creating a shortage of titanium.
"With a limited inventory, airlines have had to look worldwide to find the parts they need," says Kilavuka.
He similarly points to the impact of a shortage in qualified workers as manufacturers in Europe and North American try to ramp-up production of aircraft components to overcome delivery delays. "This has exacerbated the delay in supply chains and compromised the availability of components for airlines."
Kilavuka says the airline is doing everything within its control to reduce the impact of these delays on its operations.
"We are currently finalising a component support programme that will help fast-track the securing of components. We are also actively engaging our OEM partners to work on mitigation measures which should ensure continuity of our network and operations," he says.
However, Kilavuka adds: "In the event that supply chain challenges persist, we may have changes in our flight schedules with reductions in some frequencies."