Korean Air Aerospace Division (KAL-ASD) has seen a major impact from coronavirus across its diverse business areas, and believes that the pandemic heralds permanent change for the MRO sector.
Three to four months into the pandemic, the company has seen aerostructures production for key aircraft types either reduced by more than half or put on hold, forcing the company to partially suspend operations for two months.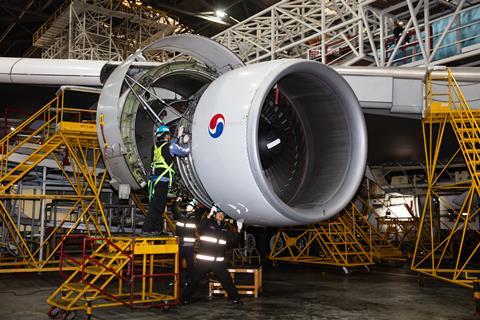 "We continue to discuss closely with Boeing and Airbus to find ways to minimise the negative impact on our business due to reduced production, and our discussions have been very helpful so far," it says.
The company is key supply chain partner for Boeing, Airbus, and Embraer with work on types such the 737, 787, 747, A320, A350, and the E-Jets family. It also provides aerostructures for Korea Aerospace Industries projects such as the Korea Utility Helicopter and KT-1 basic trainer.
In the short term, it expects demand for narrowbody aircraft to remain relatively strong, but that widebody sales will decrease.
"When a vaccine for Covid-19 is developed and released to the public, the demand for wide-body aircraft will recover more quickly than expected," it says.
To prepare for the future, the company wants to integrate new 3D printing technology with Out of Autoclave/Resin Transfer Moulding methods. KAL-ASD believes this will position it to participate in new commercial aircraft, helicopter bodies, and future mobility projects.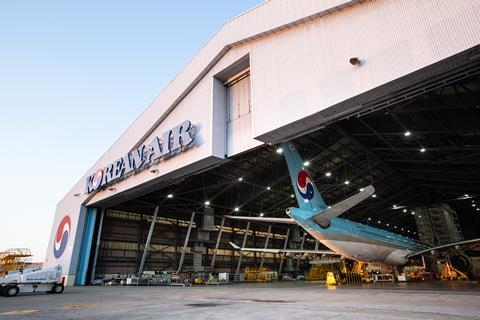 The company notes that the commercial MRO space is "rapidly shrinking" given extensive fleet groundings amid the pandemic. Heavy maintenance has been particularly hard hit, with airlines trying to reduce costs by focusing mainly on engine MRO work.
The company's primary MRO customers are Korean Air itself and low-cost carrier Jin Air, which is also part of South Korea's Hanjin Group, for airframe maintenance. KAL-ASD also performs engine overhaul work for Pratt & Whitney and GE Aviation engines.
A deal to provide A checks to Czech Airlines at Seoul Incheon evaporated with the airline's cessation of flights to Seoul Incheon earlier this year.
The company's military MRO business, however, is still going well given that both the South Korean and US Military have continued normal operations in spite of the pandemic. The company does work for a number of US types, such as the F-15, A-10, and Lockheed Martin F-16. It also conducts ejection seat maintenance for Republic of Korea Air Force (ROKAF) F-35s.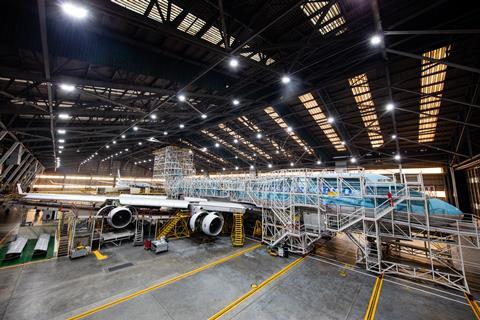 "We will continue to explore MRO opportunities for reconnaissance and transport aircraft, such as the P-8 in the Asia-Pacific region," says KAL-ASD. South Korea has orders for six P-8A anti-submarine warfare aircraft, and the US Navy also operates the 737-based type extensively in the region.
KAL-ASD, however, foresees straightened defence budgets as having an impact, with the South Korean military looking into more domestic MRO. It expects more research & development into domestic maintenance technology, as well locally produced parts and components.
The company also notes that engines account for the largest maintenance cost involved with commercial aircraft.
"Korean Air is jointly investing in a new engine MRO project with an engine manufacturer and intends to expand in this area," it says. "We are also exploring business opportunities such as [performance based logistics] and creating service centres at the Korean Air Tech Centre where military aircraft can be repaired."
Citing a non-disclosure agreement, it declines to name the engine maker with which it is collaborating, but confirms the project's focus is in the commercial space.
The company expects a slow recovery for the broader industry owing to the recession that is likely to follow the pandemic. Nonetheless, it foresees the crisis potentially driving technology investments, particularly at MRO companies that have financial stability and are willing to make changes.
"The Covid-19 pandemic will bring many changes to the existing MRO business," it says.
"Korean Air estimates that the commercial MRO market for existing aircraft, especially for aging or inefficient types, will shrink even further. In the long term, post COVID-19, it will be necessary to proactively invest in MRO for newer aircraft, including engines and related parts."

Greg Waldron is the Asia Managing Editor of FlightGlobal, responsible for the team's airline, aerospace, and defence coverage across the region. He has worked at the company since joining in 2009. In addition to his work as a journalist, Waldron makes regular appearances on television to discuss the industry, and speaks at industry conferences.