Lufthansa Technik foresees no return to pre-crisis MRO activity before late 2023 or early 2024 "at the earliest" while it expects the maintenance market will be permanently changed by the pandemic.
The German company's chief executive Johannes Bussmann said on 8 March during a briefing on 2020 financial results that while he had been able to specify his MRO market outlook in the past, there is "very high" uncertainty about how the sector will develop.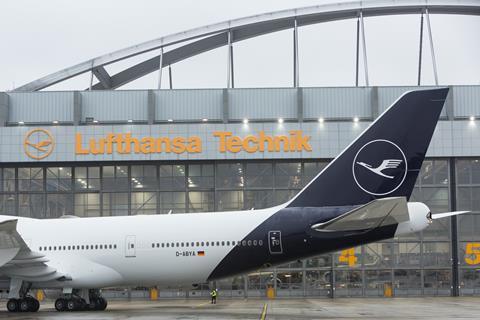 Maintenance demand has shrunk with the decline in passenger flights amid the pandemic. Bussmann warns that airline fleet changes resulting from the crisis will have secondary effects on the MRO market.
"The crisis forced airlines to quickly change fleet strategies, rapidly retire older, less fuel-efficient aircraft and delay or cancel deliveries of new aircraft," Bussmann says.
As result, he predicts that comparatively fuel-efficient current-generation aircraft such as the Airbus A320ceo and Boeing 737NG single-aisles and A330 and 777 widebodies, will retain a higher MRO market share than anticipated before the crisis.
Large-scale retirement of four-engined passenger aircraft – ageing A340s and 747-400s, and A380s – will result in a in a noticeable maintenance reduction for these types, which, Bussmann notes, generated substantial revenue for the MRO provider in the past.
Pre-pandemic trends Bussmann expects to accelerate include the replacement of smaller A320-family and 737NG variants with new, larger regional jets, and the deploying of A321neo and A321XLR jets on routes previously operated by 757s, 767s, and 787s and A330s. He argues that LHT will benefit from that trend because of the MRO provider's "strong A320 portfolio" of services.
Bussmann describes 2020 as the "toughest year in the company's history". LHT swung to a €383 million ($454 million) adjusted operating loss, from a €463 million profit in 2019. Revenue declined 43%, to €3.75 billion.
LHT says that it mainly suffered from revenue declines across all region in engine and component support activities, where capacity utilisation temporarily fell "well over half".
While sales reductions were smaller in relative terms in the Americas and Asia-Pacific regions – revenue fell 39% to €821 million in the Americas, and 25% to €430 million in Asia – LHT was particularly affected by the crisis in its home region. Sales in Europe, the Middle East and Africa shrunk 45%, to €2.55 billion.
More than 3,000 staff members – including around 1,900 temporary employees – have been made redundant across LHT's network, which includes facilities jointly operated with partners. In terms of in-house staff, the number of employees declined year-on-year 5%, to 22,745 at the end of December, LHT says.
Numerous projects were stopped or postponed as investments were more than halved to €152 million, from €313 million. This includes a construction halt of a new engine part repair facility in Hungarian city Miskolc – which was scheduled to open in 2022 – suspension of an expansion at LHT's Manila site in the Philippines, and stopping construction of new hydraulic equipment repair facility at the Hamburg headquarters.
Despite the headwinds, Bussmann asserts that LHT ended 2020 "with some confidence".
"Our broad product portfolio and global network have saved us from an even worse fate," he said. "We have managed to retain almost all of our customers. Our partnerships, some of which go back many years, have proven to be stable, enabling us to win numerous new orders despite the situation. Under the circumstances, we made the best of this year."
The MRO provider says that it concluded more than 500 new contracts with a total volume of €2.3 billion, including deals with 16 new customers.
During the second half of 2020, LHT launched a restructuring programme named "RISE" to improve efficiency and the group's competitive position. The MRO provider will introduce "a leaner and more efficient corporate structure adapted to the new challenges arising from the coronavirus crisis and able to accommodate the permanent changes in the MRO market", LHT says.
Under the plan, eight previous product divisions will be condensed to five in the future: aircraft maintenance, component, engine, digital fleet, and original equipment & special aircraft services.
Bussmann predicts that airlines will demand more cost-saving MRO solutions than in the past as operators have come under greater pressure during the crisis. Further development of services aimed at making airline operations more efficient including predictive maintenance will be central to LHT's future activity, he argues.
As government support programmes implemented to help carriers through the crisis come to an end Bussmann expects airline failures and wider industry consolidation will likely follow. Yet he also believes that LHT is in a "good market position" having invested in new-generation aircraft support capabilities prior the crisis.
"Partnerships with leading aircraft, engine and component manufacturers for the new aircraft types gives us a certain head start. Because it is those new, fuel-efficient types that have been deployed during the crisis and need to be serviced [in the future]," he says.