Lufthansa Technik Maintenance International (LTMI) has resumed work for South African carrier Comair after regulators in the country lifted the temporary suspension on the MRO unit.
The South Africa Civil Aviation Authority (SACAA) had on 22 March.suspended the MRO approval of LTMI, the Lufthansa Technik subsidiary that carries out services for its customers outside of Germany, because two serious findings identified in an audit remained outstanding.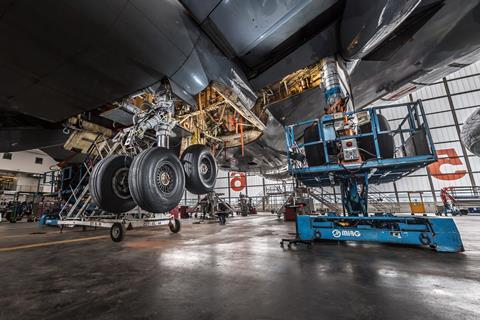 That audit had itself followed an earlier probe at Comair, for whom LTMI is one of its MRO providers, which resulted in the temporary grounding of the carrier.
While LTMI addressed two of four Level 1 findings identified during the SACAA audit within the required 24h timeframe, the regulator suspended MRO approval in South Africa while the other two remained unresolved.
LTMI says it was informed by the regulator on 27 March that its proposals to resolve the issues had been accepted and the suspension of privileges was lifted.
"In subsequent discussions with Comair, which operates both British Airways (operated by Comair) and kulula.com in Southern Africa, it was agreed that the suspended LTMI services would resume during the course of yesterday evening. This has been done and LTMI is again providing Comair with line maintenance services," it says.
"As a result of the findings, LTMI has optimised its internal quality management processes to avoid similar deficiencies in the future," the MRO provider adds.