Meggitt believes it can "absorb" upheaval from the halt of Boeing 737 Max production as the effect of January's suspension begins to impact the supply chain.
The UK company – which supplies Boeing with components including cockpit equipment and fuel systems, as well as engine control systems to CFM International partners GE Aviation and Safran – is "moving things around" its factories as it adjusts from supplying 45 Max shipsets monthly throughout most of last year. "Operationally, we're managing it," says chief executive Tony Wood.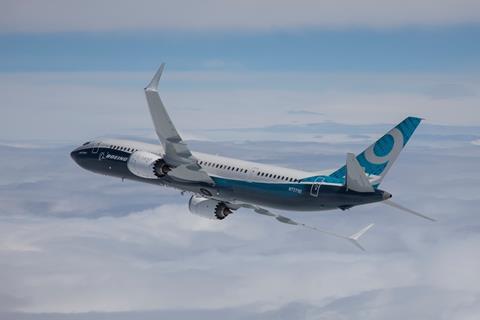 "It's a chance to catch up with some other projects. We're assuming we will be able to absorb most of [the disruption]," he says, adding that any discussions over compensation with Boeing are "contractual and confidential".
He says Meggitt is "joined at the hip with Boeing on production restart plans" and is ready to resume manufacturing as soon as the Max is cleared to fly.
Wood's comments come as Bournemouth-based Meggitt has reported strong financial results for 2019, with organic revenues up 8% and overall turnover 9% higher at £2.28 billion ($2.96 billion). Pre-tax profits grew by a third, to £287 million.
While organic revenues in civil aerospace – Meggitt's largest sector – were up 8%, defence, which represents about a third of turnover, rose by 11%. Wood says much of that is down to the company's position on current US fighter programmes, such as the Lockheed Martin F-35, as well several undergoing upgrades, including the F-16.
Meggitt is preparing to start moving in March its head office and aftermarket parts warehouse, as well as the braking and thermal systems operations of three Midlands factories, into a new campus at Ansty Park, near Rugby. The transition, which involves the closure of six UK sites including the Bournemouth headquarters, will be complete by the end of the year.
In January, Meggitt said it was investing in HiETA Technologies, a UK specialist in additive manufacturing. Wood says the stake will allow Meggitt to make use of HiETA's intellectual property in the design of the next generation of heat exchangers and other thermal systems for aerospace.
"The trend towards tighter nacelles has meant designs have changed a lot in recent years as they now have to wrap themselves around the engine," says Wood. "These can only be produced using 3D printing technology."