Mitsubishi Heavy Industries Aero Engines (MHIAEL) has completed its first maintenance on a Pratt & Whitney PW1100G-JM turbofan.
The work took place at the company's Komaki North facility, says MHIAEL. The facility, which also supports the PW4000 and International Aero Engines (IAE) V2500, was recently expanded to support work on the PW1100-JM.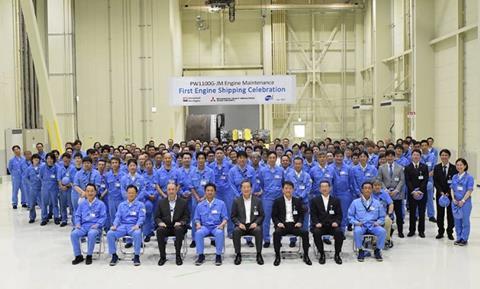 "The capacity and capabilities that MHIAEL will bring to the [Geared Turbofan] MRO network will play a vital role in supporting our airline customers," says IAE vice president Marc Meredith.
"I recognize the significant effort and skill required and extend my appreciation to every member of the MHIAEL team."
The PW1100G-JM is a powerplant option for the Airbus A320neo family.
MHIAEL also participates in the production of the PW1000 family through its involvement in the Japanese Aero Engines Corporation.