The Wichita team developing a Boeing 777-300ER converted freighter intends this month to announce multiple launch customers for the project, and is on track to begin manufacturing components within weeks.
"There will be two or three launch customers," says Jim Gibbs, president of Kansas Modification Center (KMC), a company behind the project. "We plan to announce them at MRO Americas."
That trade show occurs the week of 25 April.
KMC has partnered with NIAR WERX – a division of Wichita State University's National Institute for Aviation Research (NIAR) – to develop the 777-300ER passenger-to-freighter conversion.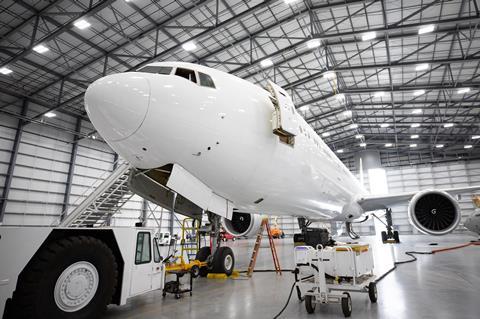 The partners insist they have the experience, technical expertise and financial backing to bring their conversion to market. They say their aircraft will have operating advantages over competing aircraft, and that their modification plan will help ensure a smooth path to certification by the Federal Aviation Administration.
"We are looking at low certification risk," says NIAR WERX programme manager Eric Kivett. NIAR WERX is an FAA-certificated Part 145 repair station that employs some 500 people, including more than 350 engineers and technical staffers.
Close to 100 engineers are working on the 777-300ER project, Kivett says.
"In two to three weeks, we will actually start the manufacturing of… parts of the aircraft," adds Gibbs. Those parts will be floor beams. Gibbs' firm KMC is the programme's "umbrella contracting company" and will hold the converted 777's supplemental type certificate.
NIAR WERX is providing engineering and technical muscle. It specialises in engineering services, aircraft modification and overhaul, flight tests and certification. NIAR WERX's other programmes include modification and heavy checks of 737s and McDonnell Douglas MD-80-family jets, says Kivett. The division sits within NIAR, which is Wichita State's aviation research and development institute. Started in 1985, NIAR is an experienced industry player, having worked with customers including Boeing, Bombardier, Spirit AeroSystems and Textron.
The 777 modification project will have help from a Dynamic NC, a Rose Hill, Kansas-based aerospace engineering and machining shop founded in 2005 by Gibbs, who sold the business in 2020. Dynamic will help source materials, fabricate components and supply the project's large sub-assemblies, say executives.
The team is making notable progress.
In January, NIAR WERX submitted to the FAA a supplemental type certification application for the conversion. Last year, it announced having acquired its first 777-300ER – a former Emirates Airline jet manufactured in 2008, with serial number 37704. Gibbs says the team has stripped the jet and completed some ground tests, and is equipping it with instruments used to evaluate design loads.
NIAR WERX aims to complete preliminary design work by the end of the third quarter of 2022, to begin modifying the first aircraft in 2023 and to complete modifications before that year ends. The team is working to receive the project's supplemental type certificate from the FAA in the second quarter of 2024.
COMPETING CONVERSIONS
Competition has been heating up in the air freighter market amid strong demand for shipments of e-commerce and express-delivery packages.
Airbus is developing its new-build A350F (based on its A350-1000), with service entry in 2025. Boeing sells new-build 767Fs and 777Fs (based on its 777-200LR), and in January launched its 777-8F, with deliveries expected to start in 2027. Boeing also sells passenger-to-cargo converted 767Fs.
NIAR WERX will more-directly compete with two other companies developing 777-300ER converted freighters: Israel Aerospace Industries (IAI) and US firm Mammoth Freighters.
IAI launched its 777-300ERSF in 2019 with partner GE Capital Aviation Services (since acquired by AerCap). It says the jet will have 819cb m (28,900cb ft) of cargo volume and maximum structural payload of 100,698kg (222,000lb).
Mammoth is first developing a converted 777-200LR (marketed as the 777-200LRMF) that it says will have cargo volume of 650cb m and maximum gross payload of 105,687kg. The company next plans to develop a 777-300ER converted freighter with 814cb m of cargo volume and ability to carry up to 99,790kg of payload.
CAPPING PAYLOAD
Kivett says NIAR WERX is taking a unique approach by capping its converted 777-300ER's maximum payload at 92,986kg – about 6,800-7,700kg less than the competing 777-300ER freighters.
Doing so will keep the jet within the type's already-certificated maximum take-off and landing weights, meaning NIAR WERX need not make costly and complex structural reinforcements nor significant changes to flight management computers, Kivett says.
Avoiding such changes simplifies the programme and the certification work, he adds. Also, not needing structural reinforcements will make NIAR WERX's aircraft 2,268-3,175kg lighter than competing converted 777-300ERs. As such, it will burn up to 91kg less fuel hourly on some missions, Kivett says.
Executives also downplay the need for more payload, saying cargo jets, especially those carrying lightweight e-commerce packages, seldom reach payload limits.
"Most times, the last package can't fit because of volume," Gibbs says.
NIAR WERX's jet will have room for 47 cargo pallets, including 33 on the main deck and 14 on the lower deck. It will have a main cargo door located forward of the wings that measures 3.8m (12.5ft) wide and 3.1m tall. The door will be part of a new sub-assembly that includes surrounding structure.
The jets will have forward cabins with lavatories, galleys and the option of seating for up to 11 people, and rigid aluminium cargo barriers between the cabins and cargo holds.
"This essentially has to resist about a million pounds of force," Gibbs says of the barrier.
NIAR WERX will make only minor tweaks to 777-300ER cockpits, such as adding indicators related to the cargo door and the fire and smoke detection systems. "The main pilot interface is essentially the same," Gibbs says.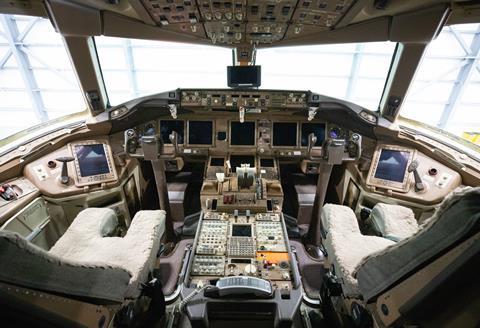 Gibbs declines to specify how much NIAR WERX's converted 777s will cost, noting that options alter prices and that inflation continues driving up the cost of aluminium, nickel and other materials. However, he insists the project will offer "best-in-class pricing".
Citing aircraft availability and demand for air cargo, Gibbs estimates NIAR WERX could sell up to 200 converted 777-300ERs, eventually at a rate of 18 to 20 conversions annually.
Since the start of the 777-300ER programme, Boeing has delivered 829 of the jets, of which 809 are now in service or storage, according to the airframer and to Cirium fleet data.
Boeing estimates the global air cargo market will support demand through 2039 of 1,500 converted freighters, though only an estimated 420 of those will be widebody jets, according to the airframer's 2020 World Air Cargo Forecast.
NIAR WERX's conversion has funding from Gibbs himself and from other "high-net-worth individuals in the Wichita area", Gibbs says. "We are fully funded… We have plenty of cash reserves to finish the programme".
Gibbs says such an undertaking could cost anywhere from $100 million to $150 million. "We are on the very low end of that," he says, declining to be more specific. "Right now, in the market, money is pretty easy to attract", he adds, noting that high inflation has left investors eager to fund attractive projects.