Singapore low-cost carrier Scoot has signed a component pooling agreement with Embraer for its future fleet of E190-E2 regional jets.
The programme will give Scoot, a unit of SIA Group, access to component exchanges and repair services for over 300 repairable parts, says Embraer.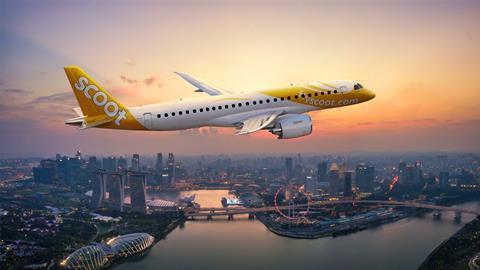 "This strategic arrangement with Embraer will minimise maintenance delays for the E190-E2, essentially boosting operational readiness," says Scoot chief operating officer Ng Chee Keong.
Embraer's component Pool Program already supports over 60 airlines globally.
"Working hand in hand with Scoot, we are gearing up for the E190-E2 entry into service next year," says Carlos Naufel, president & chief executive of Embraer Services & Support.
"We are leveraging on Singapore's solid aviation ecosystem, and we look forward to Embraer's modern, fuel-efficient E190-E2 take the skies in Scoot's livery."
Embraer adds that Singapore plays a key role in servicing and supporting its Asia-Pacific operations.
The airframer has a regional distribution centre at Changi Airport, and along with CAE it will set up an E2 simulator and pilot training centre in Singapore.
In February, Scoot committed to taking nine E190-E2s from lessor Azorra, which will make it Southeast Asia's first E2 family operator. Deliveries are to run from 2024 through 2025.
Scoot will deploy the aircraft on short- and medium-haul flights of up to five hours, serving "thinner routes to non-metro destinations out of Singapore". The E190-E2s will seat 112 passengers in a single-class configuration – the smallest aircraft in the SIA Group fleet.