Air France Industries KLM Engineering & Maintenance predicts that partnerships among MRO service suppliers will become more important as the sector recovers from the pandemic.
In April, the MRO group disclosed the launch of a nacelle overhaul joint venture with US aerospace manufacturer Triumph for customers based in the Americas. AFI KLM E&M senior vice-president engineering and maintenance business development Johann Panier tells Cirium that while the two companies had agreed to their co-operation at the 2019 Paris air show, the pandemic has amplified the case for co-operation within the MRO sector.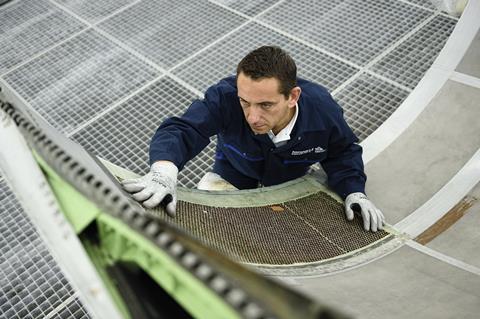 Before the crisis, he says, AFI KLM E&M viewed the partnership mainly as an opportunity to gain better access to customers based in the Americas region. The co-operation with Triumph does not provide technical capabilities that AFI KLM E&M couldn't provide from its facilities in Europe, Panier says. But noting the capital required to establish new facilities and technical capabilities and to acquire spares in the current environment, he says: "All in all, it [the co-operation] makes even more sense."
He believes the crisis is "accelerating partnerships" and will lead to structural change in the MRO sector. "We will see a lot of consolidation in the market in the coming months [and] years… The market is changing completely."
Panier predicts that operators will, post-Covid, use their aircraft orders for replacement rather than growth, and thereby accelerate the retirement of older aircraft. "Airlines will postpone from time to time new aircraft coming. But in the end they will take them," he says, noting increased environmental pressure as a key reason for replacement.
The consequence is that MRO providers will need to develop technical capabilities for new-generation equipment quicker than expected before the crisis. Panier says: "There are a lot of partners that will need to be positioned on the next-gen aircraft. The [replacement] cycles are shorter so everybody will be willing to go on the next-gen aircraft as soon as possible.
"You will see a flat market [in fleet-size terms] for the coming years. But this flat market hides the fact that there is a lot of change, a lot of lease changes. So we will need to adapt."
The joint venture with Triumph will concentrate on servicing nacelles of "new-gen" aircraft from the US company's Hot Springs repair facility in Arkansas. Panier did not disclose specific engine types, however.
Triumph's manufacturing activities include nacelle components for Boeing 737s, 787s, the in-development 777X, Airbus A330s, and the CFM International Leap-powered version of the A320neo-family. AFI KLM E&M, meanwhile, describes itself on its website as "the only MRO with extremely advanced 787 nacelle capabilities". The MRO provider can support nacelles for both the GE Aviation GEnx- and Rolls-Royce Trent 1000-powered variants of the 787, as well as other aircraft.
Panier says that nacelle MRO services have fundamentally changed, from largely labour-intensive activities on older-generation equipment to higher-value composite repairs on new- and recent-generation engines. Nacelle repairs and overhauls have become a strategic activity for AFI KLM E&M's purpose-built Helios composite shop at Paris Charles de Gaulle airport (opened in 2015), the group's Amsterdam facility, and a dedicated repair shop in Dubai, Aerostructures Middle East Services, which is jointly owned with Safran's nacelle business.
Regional presence has become important as engines have become larger and transport more complicated. But the requirement of substantial investment to service nacelles – especially to provide spare equipment – has increased too. Panier says it can be "very difficult" to generate reasonable returns. He notes that nacelle-shop visits tend to be driven by equipment condition rather than regular service schedules.
Panier describes the partnership with Triumph as a "perfect match". Working together with the US company will be a "good strategy" for AFI KLM E&M and could be a starting point for similar co-operation elsewhere, he suggests: "We start writing a story with Triumph. Who knows where it will stop? We believe in this partnership."